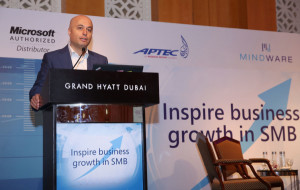 Microsoft Gulf along with its regional distributors – Aptec, Mindware and Redington Gulf; held a partner event recently focusing on the importance of using the right digital marketing tools, social media and product offerings in order to encourage growth in the small and medium businesses (SMBs) space.
The event held under the theme 'Inspire Business Growth In SMB' began with a keynote by Samer Abu Ltaif, Regional General Manager Microsoft Gulf, followed by a multidimensional overview of the SME sector in Dubai by HE Abdul Baset Al Janahi, CEO, Dubai SME, and then drove into interesting panel discussions where participants from the distributor partners shared opportunities and best practices in the SMB market. One of the highlights of the event was the keynote address and workshop by guest speaker Carol Roth, International Business Expert and New York Times Best Selling Author of "The Entrepreneur equation".
"SMBs are the backbone of the economy because they are nimble, innovative and connected with customer values. At Microsoft, we want to empower every person and organisation to do more and achieve more. This inspires us to empower our partners to leverage the power and elasticity of the cloud to enable innovation, reach and cost effectiveness that can help them penetrate into the SMB segment effectively," said Samer Abu Ltaif, Regional General Manager, Microsoft Gulf.
Aloysius Fernandes, President, Redington Gulf said "SME priorities are to improve their operational efficiency, grow their existing businesses profitably and expand into new markets. Our responsibility as a partner community is to build our technology offerings for their adoption towards improving efficiencies, processes, services and effectively communicate the value using the digital marketing channels of social media, video, blogging, email and search engine. These aid strongly in rightly influencing the SME decision making cycle which is quicker than large organizations."
Mario Gay General Manager, Mindware said, "The market is transforming into a digital world where one must have effective marketing tools to be able to unleash their creativity and prepare for this challenge"
Bahaa Salah, Managing Director, Aptec, an Ingram Micro company said "SMB remains very essential to any distribution business, this is the area where distribution can add real value to vendors and channel community."