For Dubai's savviest shoppers, diners and fun-lovers, The Entertainer is a faithful companion. Since adding a mobile app to accompany its voucher booklet in 2014, the company that offers consumers thousands of two-for-one deals has seen its digital presence soar. CIO David Ashford has spearheaded the technological transformation that now defines the company.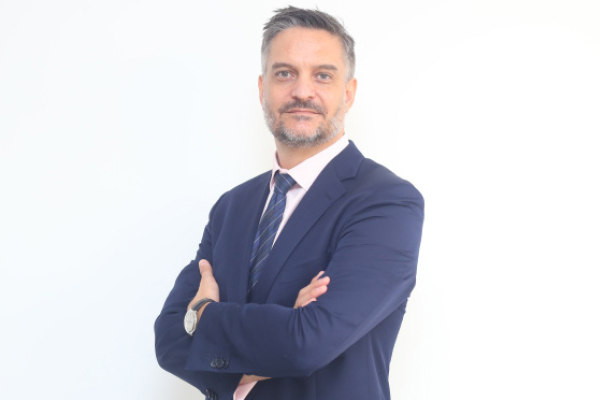 Dubai is notoriously expensive. For most residents and tourists, sampling the delights of one of the world's most cosmopolitan and luxurious cities comes at a price. Whether classy hotels, mouth-watering cuisine or heart-stopping water slides tickle your fancy, winding down in the UAE's capital of fun hardly ever comes cheap. For the last 15 years, however, The Entertainer has aimed to cut those costs in half.
In truth, the app's reach isn't confined only to Dubai. Headquartered in the emirate since its launch, The Entertainer now serves up two-for-one offers across 20 countries, with offices in 10, including Saudi Arabia, Qatar and South Africa.
Regional technology experts who tediously reference how Uber and Airbnb have become the pinnacle of digital transformation need look no further than The Entertainer for new inspiration. Those companies have been undeniably disruptive and innovative in their respective industries, but The Entertainer's evolution is a regional success story, and one that resonates with consumers.
The company's voucher book – a hefty number – was launched in 2001, and 13 years later, the firm decided to make its product available in mobile app form. The move has proven to be extremely well-timed. In the first year of the app's launch, it was responsible for 12 percent of The Entertainer's sales. For 2015, this number nearly quadrupled to 45 percent. To date, 99.2 percent of sales for The Entertainer's 2017 products have been for mobile versions. Since going mobile, The Entertainer has saved customers an estimated $150 million.
"Our rise has been remarkable," chief information officer David Ashford says. "It's been done through a very simple business model, but one that has been executed extremely well. Our founder and CEO Donna Benton had the foresight to keep innovating, and make sure the company had the investment to become a strong technology platform."
With such a marked digital rise, it's reasonable to assert that the company has gone beyond being just a consumer product. "The Entertainer is very similar to a technology startup, both in terms of our agility and speed of development," Ashford says. "What differentiates us, however, is that we have a very solid foundation and are profitable."
The pace of innovation at the company is clear to see. Cheers, its two-for-one product for drinks deals in Dubai, went live on 1st May, less than two months after the company had decided to launch it. Speed is now of the essence for the firm. "It's all about how we can increase our digital reach," Ashford says. "Our digital growth has snowballed in the last few years, so we've had to spend a lot of time building our platform, and ultimately, successfully shifting to being a technology company."
The company's sharp rise to being predominantly digitally based has also demanded an extremely quick development of its IT infrastructure. Disappointed with scheduled maintenance windows from previous vendors, The Entertainer has shifted to a "heavily cloud-based" infrastructure. "In many ways our environment is a hybrid cloud," Ashford says. Using Salesforce.com, as well as a mix of Rackspace and Amazon Web Services for its hosting infrastructure, The Entertainer understands it has a commitment to serve customers around the clock. "It's important that the app always works," Ashford says. "If a customer is in a restaurant and can't redeem an offer, they'll quickly lose patience. We owe it to them to deliver a good service."
All the evidence suggests that the app is only set to grow. For a company whose main product was physical rather than digital just three years ago, this has created a sharp demand within the company for digitally-savvy staff. Rapid technological growth has prompted a hunt for four new digital product managers and two new data scientists to accompany the heads of product innovation; information; and technology, engineering and development, all of whom sit under Ashford. It's clear to see he believes information to be the most critical asset at The Entertainer's disposal. "For us, the future needs to be different," he says. "We need to maximise the usability of our products, while harvesting data for more relevant content."
With multiple users able to access a single Entertainer account, whether in book or app form, one of the main challenges that Ashford faces is being able to tailor each individual consumer's experience. "We are fanatical about using data to make our app more personalised and relevant to each customer," he says. "A lot of our customers aren't just people, but households. My wife and I could be using the same account, which could result in me receiving suggested offers that aren't to my taste. Netflix, for instance, has tackled this issue very well. We've got some very exciting plans on the horizon that will tackle this issue head on."
Ashford goes on to stress that "spontaneity" has to be central to the way that The Entertainer develops services, with new flows of information dictating how the company responds. "There will always be new business opportunities, but it's just a question of having the data that is needed to capture them," Ashford says. "Creating privileged products always has to be a priority. For example, if there is a particular event – like the World Cup – that is taking place, we need to use data to build relevant products around that event."
As well as looking to the future, Ashford is also tasked with finding ways to leverage 15 years' worth of data to gain fresh insight. "We've been laying the foundations for a long time," he says. "We've been storing data since 2001, and now need to put that to good use."
The Entertainer's back end operations have also proven themselves to be socially adept in recent years, effectively utilising a range of social media platforms to identify customer habits, as well as spurning their activity. "We have five types of customer," Ashford says. "Competitors want to save more than their friends. Savers want to save as much as they can. Explorers use discounts as a means of discovering new outlets. Socialites prefer to go out in large groups, while tourists make heavy use of the app in a short burst and tend not to use it again."
Drawing these conclusions has impacted the company's marketing strategy, with The Entertainer now using Facebook groups that allow customers to exchange offers on the platform. "We use a different tone of voice to target our differing consumers," Ashford says.
Gamification techniques have also made strides in helping The Entertainer build a greater rapport with its customers. The introduction of Appboy software has allowed the segmentation and scheduling of direct marketing campaigns, while the decision to develop a virtual currency – Smiles – is helping to build customer loyalty.
As The Entertainer's global operations expand, meanwhile, the way the company analyses data is set to shape its entry strategies for each market. The company has already learned from experience that some markets are much more mature than others. "It soon became clear that we should never have launched our book in Singapore," Ashford says. "They're very early adopters and are accustomed to e-commerce, so that was a mistake."
Other markets may be even tougher to crack, but could still provide valuable lessons, with Ashford casting envious eyes over the ways that China's technology ecosystem has set the standard for consumer apps. "The way that WeChat can operate like a Swiss army knife is truly mind-boggling," he says. "The amount of data that the app receives is a dream for someone in my position." He goes on to add that the continent could provide future growth opportunities. "For now, our main target is to become more entrenched in our current markets, but our next opportunity could well be in Asia."
The pace of change shows no sign of abating at the company's Media City HQ. Ashford has plans in the pipeline to introduce machine learning and artificial intelligence technologies to the company's IT roadmap, but only when the time is right. "They can cause problems if you get them wrong," he says. "They're both relatively new fields, so it's important to find the right experts so that we can deploy them properly. Getting it wrong could be costly."