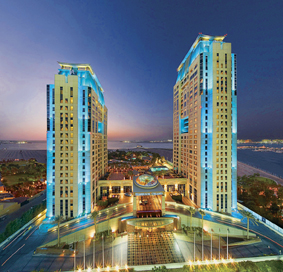 Habtoor Hotels has become the latest enterprise in the region to express its satisfaction with a move to the cloud. Outsourcing its email hosting and security to Google Apps has cut its costs by 50%.
Habtoor Hotels is one of the Middle East's hospitality veterans. Operating in the region for around 30 years, it opened Dubai's first ever five star hotel.
It is currently running four properties in Dubai. It owns two in Beirut, which have been given to and branded as Hilton, and has plans to add more to its portfolio.
"We are building one of the most beautiful hotels on the Palm next to Atlantis. They say it's rated seven stars which is not so, but let's say it's on the same level as Ritz-Carlton or even a little bit higher. We are also building the biggest hotel complex in Dubai in the place of our site on Sheik Zayed Road, which is the oldest five star hotel in Dubai," says Mahmoud Kamal, group IT manager at Habtoor Hotels.
"We are demolishing that place. It's on a very large size of land so we decided to knock it down and have the biggest hotel complex. We're having three towers with around 2,000 rooms. That project is coming to life soon – two or three years maximum. We have also bought a hotel in Bucharest and are negotiating on another hotel in France," he adds.
Habtoor Hotels employs over 5,000 employees. Its main IT team is in Dubai with 12 employees, and it also has an IT team of six in Beirut and four in Bucharest.
In terms of IT infrastructure, Kamal says the hotel business is like no other.
"It's a 24 hour operation so you cannot imagine a situation where your server goes down or your internet connectivity goes down. The biggest challenge is whether to go centralised servers and be dependent on connectivity from Etisalat or to have our own servers on site. This is the question everybody is asking. Does Etisalat give us 100% uptime guarantee?" he says.
"The answer is never. They will never give us such commitment. That means you can go down with connectivity if you are using cloud services and you cannot even claim your right. So the best solution for now is to physically have a hybrid from our own data centre and if something goes wrong we could still work from another property," he adds.
As a result of this, each hotel property has its own data centre, and each one is connected to the servers in Habtoor's main site in Dubai, where it runs several centralised systems.
"If I have a problem with my back office system I don't mind waiting one hour for an engineer to come down and fix it for me. But I can't do that with the front of our system. So it had to be hybrid – a combination between local and cloud," Kamal says.
Email hosting
Habtoor's main implementation recently has been the outsourcing of its email hosting and security with Google Apps.
The hotel chain origionally used a combination between Symantec and a local Linux POP3 server and hosted the whole email server in its head office.
"We also had Exchange server for people with Blackberry's to sync with their devices. It was rather expensive. Maintaining just an 8mb Etisalat line was costing us around AED200,000 or more every year. So cost cutting was one reason we wanted to change to Google Apps," Kamal says.
Asides from cost cutting, the other major reason for outsourcing Habtoor's email hosting and security was because of the excessive spam and junk email it experienced.
"Regardless of how powerful your offline spam controller and firewalls are – spammers are very clever. No matter how clever the policeman is – the thief will always be one step ahead. Even in our business, all the spam control systems are physically updating their software systems but you don't get the true power of online scanning. We had a Symantec spam control but it was not online," Kamal says.
The decision Habtoor had to make was whether to go for a local spam and local system or to go for a cloud implementation, in which it would opt for Google Apps and Postini.
"In the end it was simple. If you have three or four million using an email or spam control system and out of these millions of people there are 100 who report spam from one sender in half an hour, this email address will become blocked and blacklisted in the second hour on the system. That means the hacker will only succeed by hurting those people and the rest won't feel it," Kamal says.
"Having a powerful online spam control system was the other key reason why we went with Google Apps. Our users received a very large amount of spam daily and that raised fears of us being hacked through illegal sources. We also had insufficient bandwidth to manage our email and communications despite having a leased line for our email server," he adds.
The decision to opt for Postini's online spam control has paid dividends for Habtoor, with the amount of spam drastically reduced.
"The spam control of the partner of Google in that area, which is Postini, is marvellous. The average spam on the old system was anywhere between 50 and 100 per day. It doesn't matter what stand alone spam controller you use, it does not physically work," Kamal says.
"You need an online spam controlling system such as Postini. It reduced spam down to just two or three per day, which is a great success for us. It's very easy to control two or three spam a day, as opposed to up to 100. That was a major key factor," he adds.
Success
It was this success with Postini that was a major factor in Habtoor's decision to opt for Google Apps, which was implemented through Google's authorised Middle East partner, FVC.
A year after the Google Apps implementation, Microsoft called Habtoor with an offer for its SkyDrive service that undercut what Habtoor was paying Google.
However, despite the cheaper price, Kamal was happy enough with the results to stay with Google Apps.
"One of the main factors in our selection was the reputation of Google. They are a major leader in this field and were one of the first players in cloud email and solutions. Also, its direct competitor, Microsoft, was not ready at the time. They came back around one year later with a reduced offer by around 10%. But I was not willing to change. I was happy with Google and it had proven to be very reliable and trustworthy," Kamal says.
Kamal was also very happy with the minimal knowledge transfer and training involved in the implementation.
"The migration to Google Apps was very smooth. The whole transition was completed within two days by FVC and its engineers, who briefed and instructed the IT managers how to set it up, providing step by step consultation. They were trained on how to work on the administrative account and how to add new accounts and install the sync tool between Outlook and Google," Kamal says.
"It was a very straightforward process and my IT team has been able to carry it on by themselves in all units across our four major hotels in Dubai. We also had an engineer from Google on the first day just to ensure everything was fine," he adds.
There are now over 500 people across Habtoor's hotel sites in Dubai and Beirut using Google Apps.
90% of the hotel staff uses Microsoft Outlook and the "beauty" of the solution was that this didn't have to change, and therefore most of the staff didn't even noticed a different email host was being used, other than they were receiving far less spam, Kamal says.
"Our main concern was to maintain the Outlook interface for our users. Google's web interface is great, but the resist to change is always very high and when people have Outlook memorised by heart it's very difficult to ask them to move out. So we were able to keep Outlook and just have it syncing with Google Apps," he says.
"With the help of Google Postini, they now use the sync tool while being able to use the interface they prefer for email, contacts, calendar and notes. The new set-up is secure and reliable as well as cost saving," he adds.
Kamal maintains it is the strong and focused support of Habtoor's management to IT that has led to the hotel chain's success.
"They understand it's a new era and nobody can physically exist without having a strong IT infrastructure. We're changing computers on a regular basis, we're using blade servers and everybody is equipped with a smartphone. The whole group is very focused towards IT. Without a stable IT operation you can't have a successful front office, reservation operation or manage the hotel sufficiently," he concludes.