Any firm specialising in construction and engineering work needs rock solid business processes to match its concrete end products. Unfortunately for BATCO Group, a reliance on paper documents left the firm with serious problems. IT Manager Chadi Eid sought an enterprise content management solution as a remedy.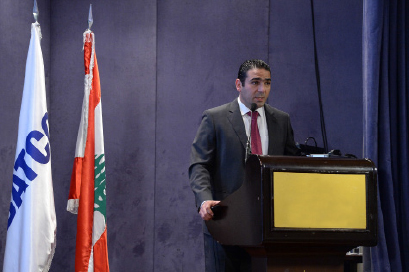 It's easy to rely on paper. Those of a certain generation have known nothing else when it comes to creating or storing basic information, while most of us – however tech savvy – do, at some point, go analogue in our day-to-day routine. However, for BATCO Group, the lack of organised workflows and use of paper documents had left the senior management torn.
BATCO's services have become increasingly diversified over time. Initially specialising in construction and engineering, the company went on to add solid waste management and water treatment services to its portfolio. The firm's construction and design specialties encompass a broad range of projects, including roads and highways, bridges and tunnels, water dams, marine works and solid waste sanitary landfills. The firm's notable work includes the Wadi Adai interchange in Muscat, Oman, and a selection of pedestrian bridges in Abu Dhabi. Its operations aren't limited to the Middle East, however. BATCO has offices in Italy, Nigeria, Oman, Romania in addition to its UAE offices and headquarters in Lebanon. The Group has 4,000 employees in its ranks, and their reliance on paper-based processes was creating needless work for the IT department.
A few years back, BATCO was running into a range of difficulties through basic admin failures. "A large number of files were simply not reaching their required destination," Chadi Eid, Group IT Manager, BATCO Group, says. "Quite often, people didn't take action in delivering paper documents. You can imagine the problems this creates for an organisation." Eid says this posed the company serious issues in its dealings with clients. "If a contractor fails to submit a claim from a client, not only could the company be penalised, but we risked losing their business altogether."
BATCO has also recently entered into an increasingly process-driven phase, largely powered by IT enhancements. "In the last two years, it's become more and more important for the company," Eid says. "IT is no longer just there for network support or Microsoft Office assistance; our department is becoming a business enabler. We implemented SAP Business One as our ERP solution a couple of years ago, and we needed a solution that could complement this change for our document management."
Introducing change was never going to be easy in the midst of a company culture that favoured technology-light processes. "Senior management recognised the need for an overhaul of this aspect of our processes, but, on a personal level, a number of them were not so keen on the idea," Eid says. "For them, working with paper was easier, and was what they were used to. People at any level in any organisation have a comfort zone, where they will do the job the way they want to. That's human nature. However, they ultimately realised that something had to be done."
Eid set to work on selecting a vendor to instigate the changes needed to upgrade BATCO's workflows and document management, a process which he says had begun before his arrival at the company four years ago. Following the evaluation, Eid and his team decided that Laserfiche's Rio 9 enterprise content management (ECM) system was the strongest option available. He had been swayed via BATCO's rivals' use of the solution. "A number of our competitors in Lebanon had opted for it, which reinforced the idea that it was also best for us," he says.
At the start of 2015, BATCO finally began work on implementing the Rio ECM system. Following its completion several months later, the solutions have seen fast-paced and widespread adoption across company departments, and have already begun to increase collaboration within the company. "The legal team are its biggest users," Eid says. "It's also very popular with our tendering, business development, operations and banking and treasury teams. Following the fast rate of uptake with these groups, we're sure that this number will only increase very soon."
Eid ensured the solution was customised across departments, with each having their own specific workflows and eForms. He believes interdepartmental collaboration has been enhanced as a result. "Departments need to decide what they want from each other," he says. "The solution has facilitated that process." Furthermore, the implementation stretches across the UAE and Oman, meaning these office branches can also send through documents to the Lebanon head office. "The main benefit of using Laserfiche is being able to follow up on communications with employees," Eid says. "Employees were initially worried about receiving too many emails but they've found that the opposite is true, their working lives have been made easier."
In the face of continuing opposition from staff, Eid and the IT department have made inroads to achieving widespread acceptance for the solution. "A large number of employees are innately stubborn, and continue to reject the idea of change, even though things are running much smoother than they were," he says. "Older users in particular are skeptical and can be especially difficult."
Although Eid has encountered resistance from employees across the company, he is nonetheless confident that solution will have a widespread impact on the business in the near future. "I do believe that within a year, Laserfiche's use will be linked to every department," he says. "It may take time for users to fully embrace the solution but I do think it will have a knock-on effect and will benefit them once they begin to digest certain concepts regarding its use."
Eid was also satisfied with the post-implementation he received from Laserfiche. "When we needed additional support, they provided it," he says. "They gave our end users several training sessions which has been very useful."
Moving forward, Eid believes the Laserfiche solution has laid the foundations for a range of other initiatives within BATCO. "In the long term I certainly think we stand to benefit from eForms and improved workflows," he says. "Being able to control documents from one place has been a key value add. The next stage for us has to be giving our external clients access to our portal and archiving and software tools, which will be a big step for all parties."