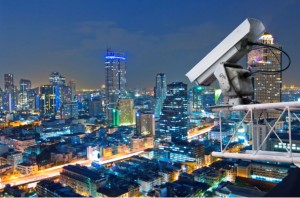 Quickly expanding strategic investment company, Tawazun, recently teamed up with Huawei in order to commit to its mission to develop the UAE's defence sector. The company deployed Huawei's IPv6-based solution across its vast industrial site, as it aims to ensure faster surveillance response times, a stronger technological backbone, and the capabilities for flexibility and expansion.
Based in Abu Dhabi, the strategic investment company, which focuses on specialised manufacturing and industry, had a clear vision in regards to its security and surveillance capabilities, and set out into the market in order to track down a service which could improve its CCTV streaming quality and relay surveillance infrastrucutre.
In conjunction, the company made it clear from the off-set that it wished to dramatically save costs, improve efficiency and significantly reduce its power consumption, as a way of keeping in line with the UAE's vision for a greener nation.
The major challenges facing the company, which it wished to address, were improving the physical security backbone infrastructure to cover its current requirements, as well as its flexibility in order to expand without compromising its security strength.
"We had requirements from the beginning, in a sense of looking at the system and identifying where we can have flexibilities, and where we can expand while staying secure," says Mohammad Saif Al Mansoori, IT Director, Tawazun.
"So we did some surveys and found a benchmark we wished to reach. We had a business objective to get a robust technology and to achieve virtualisation — Cisco, HP, and Huawei could all provide this. So we looked at local response times from Gartner; how strong each were locally, how they coped with upcoming issues, and how cost effective they were."
Mansoori and his team selected  Huawei, which he says was marginally better than HP and Cisco in the areas he was testing.
"They had a high bandwidth switch, a better price, as well as the backbone quote. They stood far higher than the other vendors."
Implementing on campus
Mansoori says that the implementation was fairly quick, as well as relatively stress free, thanks to a number POCs (proof of concepts) and test environment set-ups, which ensured that all issues and concerns were identified and rectified prior to the live roll out.
"It took six months to roll it out, including product evaluation, sizing the requirements, number of switches, and the implementation across the 70+ sites," he adds.
"When we were evaluating, we integrated with the other vendors and did a small POC to see how it would work. We also had a replica copy test environment, which Huawei set up, and if and when we came across challenges, we fixed them then and there. This is another reason why we managed to get everything sorted so quickly. During the actual implementation we had no issues, due to this carbon copy we'd already made."
New requirements for staff
The implementation itself was only completed in the last two months, and Tawazun is now monitoring the entire thing while it waits for specific staff members to take part in training for the new technology.
"The good thing about Huawei, and HP, who we use as a service, is that when bringing in the technology, they also incorporated the training. Now the implementation is finished, we're just waiting for the training to begin, which is in the pipeline and will probably start within the next month," Mansoori claims.
"It will take two types of training; the new IPv6 technology, and then the virtualised switch. It's really just a matter of sending people out, bringing them back, and merging their training with our in-house team."
Tawazun is confident that the project should last for around three to five years, and claims that the upcoming calendar month is all about backbone infrastructure.
"It's all about the extension of the project next year — more sites, more layers."
"We've already achieved benefits with the implementation. We've seen drastic change from the old infrastructure to the new one. When you see 800 cameras streaming in perfect clarity, you can see the quality of faster response times, it's hugely increased. As we add more to the solution, you can begin to see a total centralised response. This was the objective we set out to achieve, and you can see it happening day-by-day."
Power saving
On top of all this, Tawazun still maintains that a clear requirement was to share the nation's vision by reducing its power consumption. The savings made in the data centre and environment are noticeable, Mansoori claims.
"It's important because we're growing constantly. We're almost 20 kilometres in diameter now — this makes a big difference when you're trying to save power. Huawei came with a product which could save efficiency and cost.
"Any solution we bring in, we look at power consumption. We have a strict list of objectives and 90 percent are met by this. Over time, we hope the product will prove itself more and more."