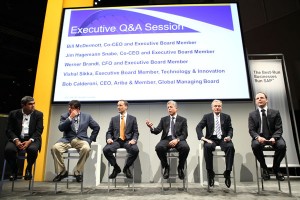 With approximately 80,000 people tuning in digitally around the world, SAP's board of executives preached to a near 100,000 strong crowd in Florida — and the message could not have been clearer; it believes HANA is the future of business.
SAP's co-CEOs, Jim Snabe and Bill McDermott, along with the company's co-founder, Hasso Plattner, and other executive board members, all took to the stage to do little more than glaze the crowd with supposed success stories of a technology they claim is the greatest innovation in the last 20 years.
"HANA will be the platform for every single thing we do going forward," stated McDermott during his opening address.
"It's the fastest-growing database and the fastest-growing software product in business ever," claimed Snabe during his keynote on day two.
And Plattner joined in on the final day, saying that HANA is giving the power back to the mathematician.
"Look at what these brilliant minds can do with these predictive analytics. HANA, with the power of mathematics and design, is the key to achieving the unthinkable."
But Sapphire Now wasn't just a parade — the company made several major announcements, covering multiple business areas for SAP, most of which were still HANA-related — demonstrating either the versatility of the platform or perhaps SAP's bourgeoning faith in the technology.
On the opening day, McDermott revealed that SAP is now working in the sports and media industry, its 25th vertical. With case studies from sports equipment innovators Under Armour, NFL team the San Francisco 49ers, and the NBA, McDermott demonstrated that, with HANA, SAP is now a business-to-business-to-consumer company and that tackling the user experience is its number-one priority.
"Behind every transaction you run is an employee, a customer, a supply manager — we need to be caring for the human. This is the message," he said.
Snabe took to the stage on day two to announce that all of SAP's software solutions are now fully available in the cloud — bringing to a close a three-year commitment from the company to deliver this. At the same time, Snabe revealed that Business Suite as a database on HANA is now generally available.
"It was our promise to bring all of our software solutions to the cloud and we have done that. Speed is critical in business now, and the scalability and availability of your applications in the largest global cloud platform will be the difference," he said.
On the final day, it was Plattner who opened proceedings by quashing common myths surrounding HANA.
"I was looking through the freedom of speech legislation — I could not find the freedom to make up facts," he stated.
With a keen interest in attracting more and more start-ups, Plattner addressed issues which may stunt the uptake from smaller and newer businesses.
"Adopting HANA is disruptive to business? It is not disruptive," he claimed.
"Most of the changes are happing in the data layer. Applications are not fully re-written at all, rather they are re-factored and simplified due to the full use of SQL and stored procedures — this transaction is not disruptive to business."
SAP believes that start-ups will be the future of business, and with more and more adopting HANA and creating applications on top, exciting things are happening. Over 430 start-ups have adopted HANA as a platform, many of which are already developing their own applications — something SAP refers to as "co-innovation".
"Co-innovation is the future of business," said Snabe. "What we're seeing now is companies coming to us with ideas for applications and asking whether they can be run on HANA — this is co-innovation."
This was focused on with great stress as Plattner claimed that one of the most hurtful myths about HANA was that it wouldn't support third-party applications.
"We preach that over 60 percent of use cases are outside of SAP — cancer treatment, sports statistics, etcetera. Not to mention over 430 start-ups are now on HANA, building amazing things."
SAP appears to have truly piled all its recent energy into HANA as a platform, and Snabe believes that technologies such as this, in a critical time of business competitiveness, will be the difference. During his keynote, he talked about how Darwinism could be compared to business today.
His closing statement was thus: "In nature, there is a natural selection. It's about being at the table, not on it. We see this in business; there is a natural selection in business. Like in nature, changes happen in quantum leaps, changing the rules of the game, but there is one big difference. In business, evolution is not random; it's deliberate — deliberate by companies which are brave enough to define the future." SAP wasn't subtle in claiming that it's the company to achieve this, but competition may view this one of two ways; a wake-up call, or an unnecessary song and dance that SAP now has to support.