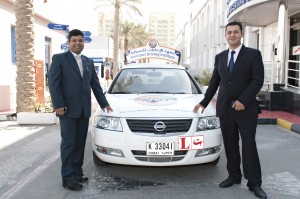 Fleet tracking technology isn't new. But, Dubai-based Emirates Driving Institute uses existing technology in a unique way for timely and effective communications, offering its business a competitive edge.
Emirates Driving Institute (EPI), part of the Belhasa group of companies, is one of the largest driving institutes in the region with 1000 employees and 800 vehicles. EDI has 60 branches primarily in Dubai, and a sister company in Fujeirah. Technology underpins everything that EDI does to improve its services to the students and helps it set the benchmark for other institutes to follow. "At EDI, IT is not just a business support function. It actually is a business differentiator. We have 3000 new customers every month and we keep adding new services to our portfolio, which mandates a really good IT infrastructure," says Imad Taha, Group CIO.
The EDI network caters to around 400 users and the most critical applications running on it include Orbit ERP system based on an Oracle platform, and applications related to the Roads and Transport Authority (RTA). Earlier, the institute had two different networks – one for itself and the other for RTA application – and now all these applications are mapped together onto a single network using routers and firewalls. The company's data centre, which is currently under expansion, houses approximately 30 servers and the DR site is based in Fujeirah. It also has an 18-seat IP contact centre based on Avaya technology.
Security is another important element of the EDI technology infrastructure. "As we are working with the RTA, we have to meet very stringent security regulations and our systems are audited regularly. We have multi-layered security architecture in place, which includes failover firewalls, and Web applications firewalls. We are also in the process of putting in place an intrusion prevention system, as we are going to offer services online," says Mohamed Shakil Ahmed, IT manager of EDI. EDI doesn't store data on the servers itself but uses a NAS, separately for production and DR servers.
Last year, EDI's IT team has implemented a unique fleet management system, which has catapulted it into a different league. The new system allows the company to track its assets in real time from a central operations control centre.
"The idea came about when we were looking for a tool to improve services. Ours is a special industry and profit makers for us are cars, instructors and most importantly our customers. We wanted to get customer feedback for services and also at the same time, predict business growth and eliminate human errors related to operations," says Taha. As a result, now all the EDI cars are fitted with mobile device trackers, which have GPS and RFID tags, transmitting data over a GPRS network.
"With this system, we are able to track in real time the movement of our cars and also assess and evaluate the skill levels of students. Earlier, we didn't have any control over cars and had supervisors on the road to keep an eye out. Now, everything is completely automated and the system is designed to store information in real time. RFID in itself doesn't have any problem or for that matter, GPS. It was a case of using existing technologies in a different manner. It is a fleet management system integrated with business logic," says Taha.