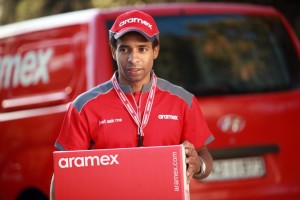 When Aramex began shipping parcels, their end-users gave very little thought to services like online package tracking. In fact, in 1982, when the company opened its doors as an express operator, technology – particularly information technology – was not at the top of anyone's concerns. However, as the logistics and delivery company rapidly expanded its services, and the demands of its customers grew in conjunction with the evolution of technology, Aramex needed to adapt as well.
The Jordanian-founded company has grown a great deal since its humble beginnings. Today, Aramex employs almost 14,000 people in over 350 locations across 60 countries. They have created alliances with other logistics companies to better reach their thousands of customers. Aramex delivers a range of services including international and domestic express delivery, freight forwarding, logistics and warehousing, records and information management solutions, e-business solutions and online shopping services.
These days, it is accepted that Aramex – and all logistics companies for that matter – would come to a grinding halt without information technology as its backbone. No one takes this more seriously than Chief Technology Officer, Samer Awajan.
Awajan began at Aramex in 1996 and has been a part of the company's double digit growth ever since. "When I began there were only about 400 employees at Aramex," he recalls. "Now we are closer to 14,000." He began at the company as an IT member and then moved on to information systems design. For the last eight years he has been serving the company as CTO, and has clearly had his hand in making technology and innovation a priority at Aramex.
Founded by Fadi Ghandour and Nill Kingson, Aramex is the first Arab-based company to be listed on the NASDAQ stock exchange. One of the company's many goals is to to be recognised as one of the top five global logistics and express transportation service providers.Indeed, it seems that almost every delivery in the region ends with a courier in a red Aramex uniform at the door.
Aramex has not only become a pioneer in the region, but has established itself as a global leader within the industry. Aramex is a founding member and chairs the Global Distribution Alliance, which brings together over 40 leading express and logistics providers from around the world. Each specialising in their own region and together covering the world with the same, unified quality standards and technology of Aramex. The network has more than 12,000 offices, 33,000 vehicles and 66,000 employees serving alliance customers and attending to their business around the clock in more than 240 countries.
"The needs of the shipping industry are changing with the growth of technology," Awajan explains. Whereas customers used to be content with simply tracking their package online, they now demand more in-depth services. Awajan is constantly striving for efficiency in the logistics company's IT infrastructure and systems. His focus recently has been to increase work in several areas of technology to ensure Aramex integrates its new technologies innovations into their operations. If that task wasn't enough, it pays to keep in mind that many of these solutions are developed in-house.
"Since the beginning," he explains, "Aramex has developed customised solutions for IT." This means that everything from fleet tracking to inventory has been created by the Aramex team. As the company has expanded, however, they have felt the need to take on a few outside solutions. "The challenge in this case," says Awajan, "is to ensure that any technology that we take in from outside can integrate into our in-house ecosystem seamlessly."
As to what innovations Aramex customers can hope to see in the future – "I cannot go into much detail at the moment," Awajan cryptically refers to yet-to-be-unveiled information, "but what I can say is that we are working on a programme that will roll out multiple projects." He does reveal that these projects will effect the way packages are delivered, as well as support e-commerce in the region. The programme, he reveals, will involve ten or more pieces and will be rolled out in phases.
"We need to grow wisely," says Awajan. "We can see what is happening with logistics and e-commerce in the region," he says, "but we need to careful with how we control our technology." In other words, though the technology may be ready, Aramex wants to ensure that its customer base is also prepared before making changes to their process.
"One thing I see happening in the future is the utilisation of information from Big Data analysis," says Awajan. By analysing existing customer data, he says, Aramex can determine the best time for services such as parcel delivery. The thought is that, through data analysis projects, Aramex will be able to determine when the best time to make a delivery might be.
Further, Aramex hopes to eliminate the need to wait around for the delivery. "You will be able to request a time for delivery," says Awajan, "and that preference will be saved for future deliveries." Essentially, you can set any of your preferences – when to deliver, where to leave the package, perhaps if you prefer for it to be delivered to a neighbour – and save those preferences for all your Aramex deliveries.
Visibility is important as well, and to that end a mobile app is now available. It allows users to track shipments, log recent deliveries, find the closest Aramex office and schedule a delivery. "We want our customers to be more aware of the delivery as it is happening," says Awajan.
A seamless user experience is a key component of innovation at the company. "This recent suite of solutions has been a two-year effort," says Awajan, "but we are constantly looking for new ways to improve our customer experience." It is clear to Aramex, and to Awajan, that technology will be key in meeting their goals and delivering on their promises.