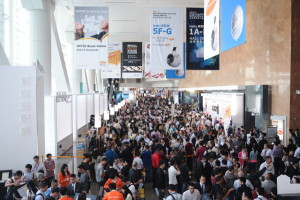 The Hong Kong Trade Development Council (HKTDC) will host the Hong Kong Electronics Fair and International ICT Expo from 13th-16th April, and Reseller Middle East will be covering the event as it unravels.
A statutory body established in 1966, HKTDC is the international marketing arm for Hong Kong-based traders, manufacturers and service providers.
With more than 40 global offices, including 13 on the Chinese mainland, the HKTDC promotes Hong Kong as a platform for doing business with China and throughout Asia.
Entering into their 12th editions, the Electronics Fair (Spring Edition) and the ICT Expo will be held concurrently at the Hong Kong Convention and Exhibition Centre.
The twin fairs will provide the international platform for over 3,300 exhibitors to showcase electronics products and information and communications technology services to potential partners.
"The seven trade fairs present tremendous opportunities for enterprises from the United Arab Emirates (UAE) to source quality products under one roof and make alliances and business contacts for expansion," said Perry Fung, Regional Director, Middle East & Africa, HKTDC.
"The growing domestic market of the countries in the UAE is opening up new trading opportunities. Last year, buyers from the Middle East who visited HKTDC fairs reached 2,500."
The UAE is Hong Kong's largest export market in the Middle East. In 2014, Hong Kong's total exports to the UAE went up by 25.4 per cent year-on-year to $6.2 billion. Reciprocally, Hong Kong's imports from the UAE were valued at $3.8 billion. "To harness the potential between the two places, we will step up our promotional efforts to expand our bilateral trade volume," Fung said.
In 2014, Hong Kong's electronics exports rose 6 percent to reach $287 billion.
"I trust relations between Hong Kong and the UAE will continue to grow, and we look forward to seeing more importers and distributors from the UAE using HKTDC's trading platform to tap business opportunities in the coming years." Fung added.
The Electronics Fair will launch two new zones, Wearable Electronics and Connected Home, to showcase the latest technology advancement. The fair's Hall of Fame will return with brands including Bigben, Coway, Ford, Hyundai, Intel, Lenco, Motorola, Polaroid and many more.