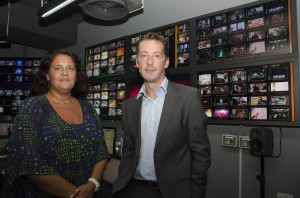 The pay-TV operator OSN is reshaping the way we consume media with its video on demand service, offering users the ability to watch what they want on any device.
The ability to access what you normally watch on home television on PCs and mobile devices is changing the traditional broadcast TV industry. As consumers become more comfortable with the idea of video on demand on devices of their choice, there is pressure on broadcasters to meet this rising demand.
On-demand viewing is attractive because it allows viewers to watch content at a time convenient to them and preferably without commercial breaks. Consumers see this option as an enhanced viewing experience. However, the changing patterns in media consumption and new distribution channels mean tight integration between broadcasting technology and multiple backend IT systems, which can be a daunting task for the IT departments.
The Dubai-based pay TV operator OSN has recently rolled out an on-demand service called OSN Play that enables its subscribers to view premium shows and movies after they are broadcast on a variety of devices. OSN Play, which can be accessed through common browsers on both Windows and Mac, is also available on Android and iOS powered mobile devices and Internet-connected TVs.
"We have put significant part of our content library online, so that customers can see what they want to see, when they want to see and where they want to see, without having to wait for the right time," says Bas Wijne, Director of IS-IT, OSN.
What is probably unique about OSN Play is the adaptive bit rate technology, which senses the bandwidth at disposal and streams video at lower or higher bandwidth to ensure smooth video play back without buffering. "Our on-demand service can work on 300 Kbps onwards up to 1.6 Mbps, though we recommend a feed of 2 Mbps for optimal experience. Around the time of Olympics we added live streaming as well and now we have 10 live streaming channels available on OSN Play," says Wijne.
OSN Play is delivered through a content delivery network (CDN) provided by Level 3. "We take all the content, transcode it into five different bit rates, encrypt it and then it goes to the CDN," says Wijne. The pervasive nature of Internet can be a problem when content owners want to limit access to streaming media to a particular geographic region. The use of CDN ensures OSN Play is geo-blocked and is delivered only within a certain geographic area in addition to being able to measure where certain content is being watched and for how long.
OSN worked with the US-based KIT digital, which developed the online TV platform and integrated it with the company's existing platforms. OSN had to build out the infrastructure from scratch to roll out the VOD service and everything is connected in real time to its CRM and billing platforms. "We had to ramp up our infrastructure and add new servers to get this up and running. OSN Play is hosted on a complete virtual environment, integrated with the existing broadcast environment. We are using virtualisation to the max and only a few applications run on physical servers," says Wijne.
OSN has also paid extra attention to security to ensure content protection. "We are using Microsoft digital rights management platform, and have separated OSN Play section of the network from our corporate network. In addition, we have put in place powerful Cisco firewalls, IPS, traffic managers and load balancers to ensure security," says Wijne.
He says OSN Play had very little impact on its existing network from a bandwidth perspective. "The most important decision was to use CDN as we did not want all our subscribers to pull video directly from the network, which would have required us to buy enormous amount of Internet bandwidth. We upload everything on the CDN and all we have is a small pipe to it."
While broadcasters are increasingly putting their video assets on cloud, Wijne says it really wasn't an option for OSN. "When you are working on content protection, you can't afford to take a risk with any unencrypted services. We needed to keep that in our network, so we don't have a choice but do it internally. We are very unlikely to hand over key business processes to the hands of a cloud provider."
Wijne says working with a CDN provider required deeper integration of backend systems. "Working with CDN was something new for us. Earlier, typical broadcasting meant you put everything on the satellite and that's where it ends from a distribution standpoint. The challenge was how do you define the processes, do the registration, and get the metadata from the broadcast network and put that onto the digital network."
Another challenge for OSN was the maturity of the broadband infrastructure, which varies from country to country in the region. "The challenge was to figure out how to get this service in a good quality feed into all these countries. So we are streaming from various places around the world to get it into the region. If we were to host it in Dubai, it wouldn't have been possible to get all the content easily into Qatar or Saudi. So we stream from the PoPs of the CDN provider," says Wijne.
He adds using adaptive bit rate for the first time in the region was also a steep learning curve for the OSN's IT organisation. "Each country has its own unique settings. In Saudi, the setting might be different for IP streaming than it is in the UAE. Also, telcos have different settings as to what they allow on their broadband networks."
OSN is currently working very closely with the telecom service providers in the region to exploit the OTT opportunities. "Most of these telcos have their own IPTV networks, where OSN is carried as a channel. A certain amount of their customers are also OSN subscribers and we are looking at integration with these telcos to bring these users to OSN Play as well," says Wijne.
OSN, which is now adding more live channels to its VOD service, is also toying around with the idea of transactional video on demand for premium content. "It's all about customer experience. We want to give them choices, whether they want it through normal set top boxes or Internet-connected devices," says Wijne. With PCs and mobile devices emerging as popular viewing platforms, OSN is all set to ride the crest of the new wave.