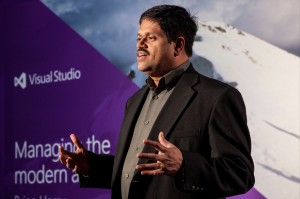 September was another busy month for Microsoft, launching new releases of Visual Studio and Windows Server. This follows the unveiling of Office 2013 in July and precedes the imminent releases of Windows 8 and Microsoft Surface. Soma Somasegar, Corporate VP, Microsoft, spoke to CNME at the launch of Visual Studio 2012 in Seattle, USA, about how Microsoft is showing the world it can be a leader in innovation again.
Innovation is not a word that people have rushed to identify with Microsoft in recent years, with the likes of Apple and Google reserving that sort of illustrious association.
However, it seems the original computing pioneers are finally ready to pioneer again. With the advent of mobility leading to ubiquitous predictions that the technology world is at a tipping point in the definition of personal computing, Microsoft is determined it will lead the way.
There is no denying that Apple has so far led the mobility stakes with the domination of iPhone and iPad, but the tablet is yet to be considered a full-proof replacement for the notebook. Microsoft believes the Surface and Windows 8 can do that, supported by its range of related products, including Office and Visual Studio.
September saw the official launch of Visual Studio 2012 (and .NET 4.5), Microsoft's flagship tools suite that enables developers to create applications on the upcoming Windows 8, as well as other Windows platforms.
Amongst its features are Windows 8 application development and porting enhancements, including the ability to target Windows XP for C++ applications without needing side by side installations.
It also extends on agile methodologies and provides more integrated testing functionality, such as code coverage for manually testing Web apps, cross browser CoderUI or a Web interface for test case management, and provides additional ALM (application lifecycle management) capabilities for SharePoint.
Somasegar, who heads Microsoft's developer division, says Visual Studio 2012 is critical to the success of Microsoft's other releases this year.
"At the end of the day we deliver a great selection of platforms and if you want to build an application using any of these platforms, the best tool that you're going to want to use is Visual Studio. It is very critical to all these platforms in terms of getting the developer eco-system excited and energised about what they can do in terms of building fantastic applications that they can adapt to these platforms," he says.
He adds that his team decided early on with Visual Studio 2012 that it was important to embrace the consumerisation of IT.
"When we started working on the product, we had already internalised that the world is going to see a vast difference in the kind of devices and form factors. We realised that we needed to work closely with all the platforms no matter what the form factor is and make sure that the developer experience is both consistent and excellent for the particular form factor.
"So whether it is a smartphone, slate or PC, we needed to think about how you have the right developer environment in terms of guidelines and prescriptive guidance to people so that they could take better advantage of the screen size and the hardware capabilities that exist with any particular form factor, as opposed to locking it to just one."
Modern Microsoft
The launch of VS 2012 was consumed with many mentions of enabling developers to build "modern applications" and to adopt "modern lifecycles." Somasegar expands on this.
"Developers spend a lot of time day in and day out in the developer environment. It's like spending a lot of time in your home and you want your home environment to be ideal for you. So we've done a lot of work to make it a productive environment where developers can focus on the task at hand, as opposed to getting caught up in everything else and forgetting the context," he says.
He adds that he believes the enterprise IT market is, if not already there, getting very close in terms of embracing devops.
"I'm thinking about agility as a core fundamental principal in which they need to operate. That's a statement not just on development, but on deployment, operations and management, so that they can really have the tight crew that they keep talking about. With Visual Studio, we are really trying to lift the notch in enabling devops.
"You have to not only tell them that this is important but give them the tools to work from in an enterprise IT environment to allow more agility between the development and operations teams. We are already on the journey, but I think we're going to see some real traction and process as enterprises get hold of these new products and discover how to put their ideas into practice."
In a nod to the Middle East, Microsoft often looks to the region for inspiration when it is planning how to innovate, according to Somasegar.
This is due to the large number of people who are below 25 in emerging markets, which he says is staggering.
"When you're talking about the next generation of people that are just coming out of schools, they are coming in the workforce with a completely different way of thinking about and doing things. So we now have to adapt away from some of the traditional ways we thought in the past. That's why I think we need to look to emerging markets like the Middle East when innovating, because of the amount of people that exist in a particular age group in those geographies," Somasegar says.
"Those people are not afraid to take bets and try out new technologies. I think innovation can happen wherever people are passionate and want change, so I think a fair amount of innovation will come from emerging markets. It is a greater opportunity now than ever before for the Middle East to innovate," he concludes.