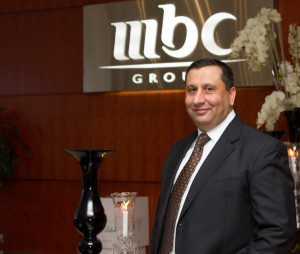 Throughout his life, Ali Radhi has had little choice but to strive for excellence. Not only is his father a professor of law, who worked at the Universities of Paris, Baghdad, UAE and Jordan, but his mother is also a judge. Factor in his wife's side of the family, which is saturated with high-achievers, and it's easy to see why the Head of IT at Media Group MBC is kept on his toes.
"Including my in-law family, there are nine professors and doctors in my family. I'm one of four siblings, my brother is a bone marrow transplant professor and one sister is a neurologist, while the other sister has a PhD in law," he says. "It becomes very easy to look at yourself and think, 'have I done enough?' But then you remind yourself you do something you love.
"In Iraq, people were always judged by their level of education, so it was paramount that I could prove myself to be well-educated from a young age."
Born in Baghdad in 1966, Radhi has since travelled far and wide, all in the name of IT. He's held high-profile industry jobs in Iraq, Jordan, New Zealand and the UAE, and the self-confessed 'Kiwi' has spent a large part of his career journeying other parts of the world to stay in control of business.
He recalls having an early fondness for ATARI computers, and the 1980s British best-selling computer Sinclair ZX80. On a visit to the US as a 10-year-old with his uncle―who was studying for a PhD at Georgia Tech University at the time―his eyes were opened to the opportunities of working in technology. "I remember seeing some IBM mainframes back in those days and thinking the technology was mind-blowing. It was unlike anything I'd seen back in Baghdad; it wasn't part of normal life. I remember thinking to myself then that I wanted to be part of this world," he says.
After working his way through Baghdad College high school, Radhi graduated from the University of Baghdad in 1987 with a degree in electrical engineering. After finishing in the top five of his college, his efforts did not escape the attention of the department. He rejected their offer to work as a teacher in order to found computer supplier and programme developer Engineering House with four colleagues.
"We were one of the first privately owned computer companies in Iraq," Radhi says. "We used to supply a lot of equipment for universities and we built the software that structural engineering companies needed for design. Coming out of university, I immediately realised there was a lot I had to learn about the wide world, and Engineering House was a real springboard to begin that journey."
His next move suggests his quest was on track. After the 1991 Gulf War, Radhi moved to Jordan to assume the role of IT Director at BAR trading, which dealt with multiple products, including computer parts for the consumer sector.
"My background working for a private company proved an advantage," he says. Gaining high-level experience aged 25 at BAR propelled him to his first job outside of the Middle East―he joined computer specialist International View in Auckland, New Zealand in 1994. By this point, Radhi's career was gathering serious momentum.
"At this stage, I'd left the original bubble that I had known before," he recalls. "Failing in this transition was not an option. I'd taken what I thought was a massive gamble by moving to New Zealand, so I was 100-percent committed to the job in order to make the move work."
Radhi began to build a solid pool of contacts, and it wasn't long before his efforts caught the eye of industry heavyweight IBM. "Thankfully, my hard work at International View paid off. I was head-hunted by IBM in 1995, and took the same job that I had at International View. In my time at IBM, I gained a lot of experience working with customers both in the public and private sectors as well as the banking industry," he says.
Five years later, one of Radhi's proudest career moments came after IBM's New Zealand arm merged with the Australia branch to become IBM Australia-New Zealand. "I had been doing well with the network team around that time, but I can honestly say it was a pleasure to be a part of the IT team working on the 2000 Sydney Olympic Games," he says. "I was in charge of network support. The whole experience was amazing, and the sense of achievement I had was immense."
In the meantime, Radhi had been plotting a move away from IBM. The company's Network Hardware Division had been acquired by Cisco for $2 billion in 1999, an event that he says "had a huge impact on myself and the company." Until 2005, within the Cisco/IBM alliance, he had been leading the data centre migration initiative, but eventually came to a crossroads in his career. He was offered two top jobs―one at Internet service provider iiNet in Perth, Australia, and the other working for Cisco in the EMEA region. A frequent traveller throughout his career, Radhi was conscious of the impact the move could have on his family. "I thought long and hard about which route I would take. In the end, the opportunity to be placed in any number of top locations across the EMEA region―and the opportunity to work directly for Cisco proved too good to turn down," he says. Within a year of taking the job, he had been moved to the firm's UAE branch, and was based in Dubai.
According to Radhi, This move laid the foundations for his current job at MBC. "I was in charge of several strategic accounts whilst at Cisco UAE, including Emirates airline, Dubai Holding―which is a huge client―some big banking clients, and MBC." His apparently innate skills of shrewd networking and exemplary service led to the broadcaster offering him the role of Head of IT in 2008. "I'd had a good relationship with the people at MBC in the years before I got the job there. They'd been calling me for a while trying to get me on board, and I eventually decided that it was a very exciting time for the television industry in terms of IT―it was an industry in transformation" he says.
Having taken the job, Radhi looks back with a sense that his MBC team were pioneers of IT broadcasting, "We transformed TV transmission," he says. "We were the first company in the region―if not in the world―to broadcast live TV over IT networks. The last few years have been a major challenge―moving a TV company into an entirely file-based environment has been a daunting task," he says.
But with hard graft comes results, and Radhi's toil was recently acknowledged as he scooped IDC's Middle East CIO Business Leader of the Year 2013 award, where he was up against 80 contenders from the region. He also won the CIO 50 award in 2012 from CNME, and his MBC team won CNME's Networking Project of the Year award for 2012.
So what has made Radhi's career such a success? He believes that experiencing a variety of cultures has been essential in moulding him into a versatile leader. "Living in different countries and experiencing their differences in work and social culture has been an invaluable life experience. It develops your awareness of professional expectations around the world, and naturally heightens your own," he says.
At MBC, having this experience is not only an advantage, but―given the size of his team―a pre-requisite, he says: "I'm in charge of a large IT team at the moment, but within that group are tens of different nationalities―it's very impressive. But this is Dubai, where people come from everywhere to work. In that respect, I feel lucky to have travelled so much and put myself in a position to relate to as many of those cultures as possible."
Radhi is responsible for an IT team that is spread across worldwide offices, making him responsible for managing information technology for 15 TV channels, two radio channels, TV production, post production, online media and a news network―all run from Dubai.
Aside from being culturally conscious, relentless work demands and a love of the industry have kept Radhi on his toes and ensured he remains a frontrunner of IT Directors. "In my job there aren't really any weekends. It is a non-stop industry and I believe the key to remaining in control is to be directly in touch with operations, and that means getting your hands dirty. To be successful in IT you have to work as part of a team; it's no use just 'managing' them. That means you need one key ingredient to achieve constant excellence: passion."
Success is not a one-man recipe, Radhi says: "I would not be where I am without the support of my wife at home and the IT team we have at MBC. I can truly say, 'I am standing on the shoulders of giants.'"