After a long wait, Mario Foster has finally secured his long-desired move to the UAE. The Al Naboodah Group Enterprises CIO has spent his career working in Canada and Saudi Arabia, both as an IT decision-maker and for internationally renowned vendors, but is now spearheading a range of transformation initiatives.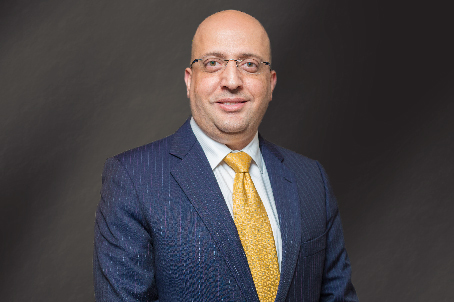 Born and raised in Kuwait to Canadian and Jordanian parents, Mario Foster completed his high school education in 1988, before opting for a change of pace by returning to his filial roots. Studying for a university course in computer science in Canada, Foster obtained his Bachelor's degree before obtaining a Masters in the management of information systems.
Determined to shore up his education, he made it his mission to obtain professional certifications, and achieved his Microsoft Certified Solutions Expert (MCSE) qualification after graduating. This desire for diplomas would be a running theme throughout his career, as he later became a Cisco Certified Network Associate and Certified Information Security Manager (CISM).
Foster kicked off his career with a two-year stint at British Columbia-based firm Campus Computers, where he worked as a tech support engineer. He feels the experience got him off to a good start in the working world. "It was a great way to apply the knowledge I'd acquired up to that point," he says.
A huge change of pace was to follow. Foster answered an online advert for a job at Microsoft's offices in Toronto, and was hired in an infrastructure and network support role. "The culture was totally different from Campus," he says. "Moving from a company with a small amount of staff to a well-structured multinational corporation with lots of policies, standards and procedures was a shock." Foster went on to spend five years at the software giant, moving into an infrastructure consulting role later on in his tenure. "I really grew in my time there," he says. "I progressed quickly and proved to myself that I could cope with Microsoft's expectations."
His development at the firm stoked a desire for more learning. Foster took the bold call to put his career on hold while studying for an MBA in information technology management in Ontario. "I was determined to better myself by studying a number of things," he says. "The management and finance of IT, strategy and planning were skills that I knew I would need in order to succeed in business as well as technology." Foster was awarded his MBA in 2000, and was on the hunt for a role in the burgeoning US IT market.
His passion for IT security drove him into a consultancy role at RSA's headquarters in Boston, and it was to be the start of something special for Foster. "I learned so much there," he says. "It was easily the most exciting time of my career. They're a company that really cares about service quality and good daily practices, and those habits have had a great impact on my work." Foster spent his first three months at the firm being trained on products before being moved into a senior deployment consultant role. He became a product specialist, focusing on two-factor authentication solutions, and was soon heading the firm's security infrastructure in its professional services organisation. Foster left the firm on a high, spending his last two years as RSA's head of infrastructure.
In 2005, he realised a long-running ambition to return to the Middle East, where some of his family were based. A huge personal change was on the cards, as he moved to Saudi Arabia to become manager of Riyad Bank's security operations centre. "It took my knowledge of security operations to the next level," he says. "IT security in a bank is no joke. You have to be alert and organised 24/7, and always be available to make decisions. I would often be called at three or four in the morning as SOC operators needed my approval, or I would be in the centre from 12-4am if we were rolling out new solutions." Foster was not enamoured with life in Riyadh, and after two-and-a-half years, he decided to return to Canada with his family.
His next career stop would be as director of IT for insurance firm Empire Life, and the unfamiliar industry would provide a fresh experience. "I needed more of a broad business and IT brain rather than just being focused on security," he says. "Working in insurance also brought new challenges. I had to learn a range of business-related applications as well as anti-money laundering regulations, which everyone in the industry has to know." Although Foster was refreshed by the experience of working in Canada again, he nonetheless found the relentless cold weather "depressing", and once again sought a move to Saudi Arabia.
This time, he joined Rawabi Holding – a family business made of 19 companies – as group IT manager in 2010. Foster found the pace of life in Al Khobar more to his liking, but his job provided a stern test. "Life was more relaxed than in Riyadh," he says, "but providing IT services across various lines of business was a new challenge. You have to meet different expectations, and every company thinks it should receive your full attention." Foster progressed to the role of group CIO, where for the first time, his work was split "50/50" between IT and business initiatives.
After three years at the firm, Foster was approached by Rawabi's sister company Pan Gulf Holding to be its CIO. "Al Khobar is a small city, and I still don't know how they got my number for that role," he quips. Transitioning from an oil and gas specialist to a manufacturer gave Foster fresh experience in ERP implementation. "Across my last few roles I'd worked with a range of vendors in this respect," he says. "At Rawabi I implemented Oracle E-Business Suite, I had also worked with Microsoft Dynamics, and now we were implementing SAP. This was all fantastic, broad experience."
Throughout his time in Canada and Saudi Arabia, Foster had harboured hopes for a dream move to Dubai. "I always wanted the lifestyle and longevity that the UAE could offer," he says. Unfortunately for him, the cards that he'd been dealt were never quite in his favour. "Every time I applied for jobs in Dubai, either another one would materialise in Saudi or I wasn't selected." Finally, Foster was approached by a headhunter, and joined Al Naboodah Group Enterprises as company CIO in March 2015.
He began his tenure by initiating a restructuring process within the department, focusing on hiring staff with specialist skills that could address his top targets – upgrades for the firm's IT infrastructure, connectivity and speed of applications. He also focused on virtualising the firm's Windows environment, and is now "70 percent" of the way through this process, saying work should be complete by the end of 2016. Foster also established an IT governance and planning division for the firm.
Looking forward, Foster is set to spearhead a range of exciting new initiatives for Al Naboodah, albeit with the caveat of a limited budget. "It hasn't increased for 2016, but we're still expected to achieve more with it," he says. "The last three weeks have been very stressful in terms of planning, but good things are undoubtedly on the horizon." Among the Group-wide initiatives are plans for a new tier 2 data centre and an employee self-service ERP, while the commercial division is due to launch an e-commerce platform, the firm's travel agency a new online booking engine, and an electronic document management system for the construction division.
Cloud MENA and Zayed University advisory board member Foster names his father and Bill Gates as personal and professional idols. "I would always see my dad getting up very early to work hard and deliver real quality," he says, "and given his status as a true modern tech entrepreneur, I always love to hear Bill Gates' thoughts on technology and the world at large."