For Akshaya Gaur, technical acumen alone has never been enough to succeed in IT. The Mashreq Bank Chief Information Officer has garnered a wealth of international experience across innovative projects, but has never lost his love of getting the best from his teams.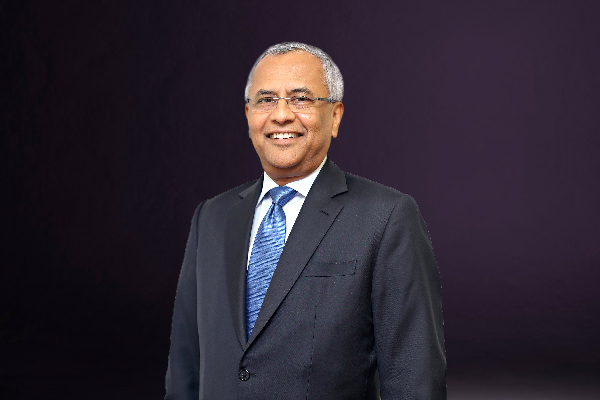 "I'm passionate about people," Gaur beams. "In technology, a lot of people believe that the industry consists purely of technical things, but people – who drive the organisation – and processes are essential." Born in Jodhpur, Rajasthan, and raised in New Delhi, Akshaya Gaur's wealth of international and leadership experience means he is ever mindful of the need for high quality management as well as the latest technologies that drive progress.
After graduating high school in 1972, Gaur joined the Indian Institute of Technology in Delhi to study civil engineering. Realising passions for theatre and debating en route to completing his studies in 1977, he questions the thinking behind his course choice. "I don't know if it was a natural decision, or a larger Indian family influence, where they want you to be a doctor, lawyer, or something else brainy," he says. Upon graduating, he joined civil engineering consultancy firm Howe India, and was deployed for a year on a grain storage site in a Punjab village. "It was a shock for a city boy," he says. "I was the youngest staff member there but the sociocultural differences, way of life and professional experience were fantastic."
A year down the line, and Gaur's thirst for all things people would resurface, and he opted for two years of study at the Indian Institute of Management (IIM) in Calcutta, where he would meet his wife, Alka. Gaur completed his course in 1980, and, through his impressive work at IIM, was offered a role as a software trainee at Tata Burroughs, his interest in IT remaining on the backburner until that point. "In my fourth year of studying engineering at IIT, I had to choose an outside elective," he says. "IT sounded interesting. Back then it was not ubiquitous, but it had a degree of mystery around it and I liked that. I can't say if I was good at it because I enjoyed it, or vice versa, but it was a positive cycle." Initially fascinated with COBOL programming, Gaur's first assignment at the company was in banking. However, his first taste of the industry ironically stoked disinterest, not desire. "I found finance dry," he says.
His stint at the firm provided yet more clarity on his career path, and he decided that programming, although holding a soft spot in his heart, would not form the foundations of his career. Thankfully, his next role would provide the long-term springboard he needed to marry technology and management. Following IBM's expulsion from India in 1977 after the government deemed the firm damaging to the overall economy, a number of the company's former local executives formed a new organisation – International Data Management – which Gaur joined as a software trainee. Initially based in Bombay, Gaur and his wife eventually craved a new challenge, and opted to move to Calcutta in 1983, where he would be given his first managerial role, as a Data Centre Production Manager. "All the other staff were at least 10 years older than me which was strange," he says. "It was a steep learning curve in a place where age-based hierarchies exist."
Over the course of the next six years Gaur held various programmer and business analyst roles as well as undertaking a stint in software and computer sales while at the company. It was in December 1989, however, that a pivotal point in his career would arrive. Standard Chartered Bank came calling, and they wanted Gaur to manage an International support centre for the company's Bankmaster software. However, a mere 15 days into his training, the firm's head office in London decided to scrap the project. Fortunately for Gaur, his strong track record convinced Standard Chartered to offer him a role in the English capital as Manager of Information Systems for the Middle East, Africa and South Asia. Initially based there for six months, his role was largely governance and management focused, ensuring that  countries under his control were adhering to strategy and policy.
In 1994, Gaur would receive his first taste of working in Africa. A project revamping systems, infrastructure and banking processes emerged in Nairobi, and he was based in the Kenyan capital for eight months. "I fell in love with the project – which was initially going off the rails – and with Kenya," he says. Following the project's success, Gaur was made Head of Information Systems for Africa, where, bizarrely, he would be based in London.
Fast forward to 1999, and following an unsuccessful Standard Chartered acquisition, this time in Indonesia, Gaur was eventually reassigned to a role where he was tasked with identifying low-cost technology locations in Asia. "For 165 days a year I worked in Singapore and Hong Kong, although I was based in London," he says. "It was exhausting. I couldn't stay awake when I came home." The fatigue prompted Gaur to move permanently to Singapore in 2002, where his role developed a lot of "vendor management" duties, as well as tying up deals with Indian firms.
Gaur was to experience the fruits of his labour in 2007, moving to Chennai to manage one of the technology centres – Scope International – that he had set up. "When I arrived there were 2,000 people working in the centre, and by 2010 there were 3,000, which shows the progress we made in that time," he says. By 2010 he had returned to Singapore in a role that gave him his "first taste of innovation", working in enterprise content management in projects that covered 24 countries. "It gave me a new way of looking at things," he says.
Gaur's dream role was to present itself in September 2013. Headhunted by Mashreq, Gaur was finally given a role that could blend his love of innovation and management. By then, he was used to the upheaval involved with moving countries. "By that point, they should have given my dog air miles," he jokes. The role has given him greater autonomy in driving transformational change. "Mashreq has a strong record of innovation. Coming from a large corporation where structures are more rigid, it's been a breath of fresh air. I've loved building good business relationships and shaping a tech team for better efficiency."
Gaur has recently reaffirmed his commitment to a people-focused approach, becoming a qualified executive coach in 2013. "I work with people in a corporate structure to help them identify and develop their skills," he says.
Although he appreciates the need for staff with high technical specialism in IT, Gaur does not believe that success in the industry is exclusively bred by studying the subject. "If you look at a lot of the millionaires in Silicon Valley, many of them have non-IT backgrounds," he says. "You could have done philosophy honours and still thrive in technology, which is ultimately a series of logical and structural activities and paths. You need data scientists with deep technical skills to programme software and hardware, but beyond that there aren't limits."