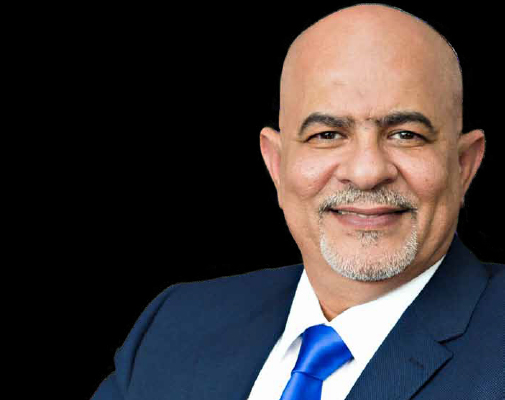 Enamoured with futuristic technology, Esam Hadi has a passion for innovation. Aluminium Bahrain's Senior IT Manager has used the power of IT automation to convince the firm's senior management of calculated tech risks, and is determined to empower a new crop of the company's rising stars.  
I'm a geek," Esam Hadi confesses, his sharp appearance betraying his words. "Ever since I was a kid I fantasised about science fiction, and the prospect of touch-free automation." Born in 1960 in Bahrain, Hadi takes pride in the mercurial time period in which he grew up. "It was a mix of the good and the bad in terms of technology, which I believe was for the best on the whole," he says. "Major new innovations were emerging – we had colour TVs and a telephone in the house – but we could still enjoy the simple things."
Hadi graduated from high school in 1979, and joined local firm Batelco. The company was keen to further his education, and encouraged him to undertake a period of study at the University of Bahrain. The stint was enough to inspire him to move beyond the Kingdom.
Young and ambitious, in 1980 Hadi opted for a move to Dubai to work for the emirate's Health Authority – where he was largely based in Al Maktoum Hospital – whose patient administration system was in development. "Back then, Dubai was much less complex, and everything was in Deira," he recalls. "My Auntie lived in Rashidiya, so I stayed with her for a while. Very few Bahrainis left the country at the time, but I was a bachelor who was keen for new experiences." Passing his free time in Al Ain, Abu Dhabi and Khor Fakkan, Hadi's passion for core aspects of enterprise IT was fossilised in the UAE. "I fell in love with programming and mainframes," he says. "I worked as a developer and system programmer, and helped create a payroll system for the organisation."
Hadi returned to Bahrain in 1985, headhunted by local carrier Gulf Air to work on CICS and Cobol programming projects. The company had purchased software packages from Delta Airlines, and Hadi's prior experience would ensure a productive one-and-a-half year stay at the firm, until Aluminium Bahrain (Alba) came knocking for his services. With only an initial diploma under his belt, Hadi joined the firm as a chief programmer. A year into his tenure, the firm sponsored him for two years of study in a BSc degree in informatics.
He spent years enhancing his IT knowledge while at the company, and oversaw the wholesale arrival of the PC. "We had always used mainframes until then, but users loved the change," he says. In 1995, six months after the birth of his daughter, Hadi was once again endorsed for further education, as he undertook a course at the University of Portsmouth in the United Kingdom. "It was the best time of my life," he says. "I learned a completely different culture of working. I collaborated with a lot of Chinese and Malaysian students, who both work incredibly fast." He also bettered his knowledge on the technology front. "I garnered a great deal in terms of project and business management," he says. "I also learned how to hack and jailbreak devices, which in turn gave me a completely fresh view of how to protect yourself from such threats."
Years after returning from Portsmouth, Hadi's opportunity to shine came in 1999, when he decided to introduce SAP to Alba. The change had a profound not only on the company's IT, but also in convincing key stakeholders that technology – and calculated risk-taking – were key elements in success. "It was the biggest jump I've made in my lifetime," he says. "It allowed us to customise and configure our IT, which has subsequently influenced our methodology and transformed the user perception of technology and systems." The implementation soon served as a platform for Hadi to deliver a warehouse management system that proved to be a huge value-add for the company.
In 2002, Alba sponsored Hadi for a two-month stay in Chennai, where he would train to become an SAP consultant. As a result, in the years since, he has been named director of the board for the MENA SAP Users Group.
The training served as a springboard for pastures new, and in 2003, Hadi was asked to undertake a slightly different role within Alba, working more on the operations side of the business, overseeing the manufacturing execution system. This was an eye-opening experience. "At this point it really hit me, that if I made a mistake with technology, the whole manufacturing process would come to a standstill," he says. "That brought an added pressure to the job."
Hadi's boyhood passion for sci-fi and all things automated and futuristic has had a lasting impact on his professional ethos. Since the day he joined the company, Hadi has been enamoured with the culture of innovation at Alba. "There have always been fantastic opportunities in IT," he says. "The senior management are happy to give the green light for almost anything as long as it adds value, which isn't something you get at most companies. They let you do what you believe you need to in order to drive positive change."
In recent years, things have stepped up a notch when it comes to thinking outside the box. "Until 2010, 80 percent of our time was spent on maintenance in IT," he says. "Now I'd say 70 percent of our budget and time is dedicated to innovation. Allowing systems to become obsolete is expensive, so things need to run more efficiently to save cost. IT security issues are at the back of my mind 24/7, but where risk isn't high, we are always happy to be leaders." One particular instance of technology's value lives clear in the memory. "I created a BlackBerry approval service that could go straight to the CEO's smartphone," Hadi says. "The management were delighted with what we could do, and that only reinforced the idea that Alba should be a technology innovator."
The innovation strategy within Alba was not the only philosophy that changed in 2010. In that year, Hadi was to experience the first of his two heart attacks, and since then his outlook on life has evolved. "I was out jogging when the first one hit," he says. "I used to think I was in control of everything, but I soon learned that couldn't be further from the truth." The second one followed in 2011. "I was blessed, and managed to come through it," he says. "I learned to look after people more, to smile and do what you love in life." Hadi has now fulfilled an ambition to be a motorcyclist, and owns a Harley Davidson, with his next personal ambition to travel the world. "Sheesha is not a good stress relief," he says of the need for wholesome hobbies.
Impacting positively on others is clearly something Hadi holds dear. He takes immense pride and pleasure in collaborating with Alba's 39-strong IT team. "I always think I'm incredibly fortunate to be where I am, and I want to give something back," he says. "I like sharing my experience with others to make their lives easier, and to ensure they don't make the same mistakes I did. I'm incredibly proud of my energetic team, who I wouldn't be successful without."