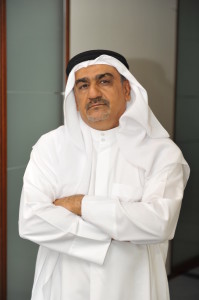 A sign in Al Bastaki's office reads "Great leaders don't produce followers, they produce leaders." He is a strong believer in empowering his colleagues to become independent decision makers, who can complete tasks without his constant assistance. "When an employee comes to me and asks 'what should I do?' I tell them to go away and research the question at hand, and then to return to me with a plan of what they think they should be doing," he says. "I then advise them whether or not they're on the right track. In this day and age, people have no excuse for a lack of knowledge, we have the Internet!"
Born and raised in Dubai, Al Bastaki achieved his high school diploma at the Jumeirah American School, and began working as a Systems Analyst for energy firm ConocoPhillips in 1982. He says his initial interest in IT began in his first five years of working with geologists at the company, as he was required to produce computer drawings and structure maps on "old" computers. "My old boss, Dean Patton, was very supportive of me, and pushed me to go the US to study IT," he says. "I got an approval from the company to continue working for them whilst studying in Ohio, and off I went." Al Bastaki found the initial transition to Columbus State Community College an easy one, as he had friends in America.
It was to be the beginning of an eight year university career which saw him complete a Computer Programming degree there, before undertaking Computer Science degrees at Ohio State and then Franklin universities. He would return to the UAE during summers, where he continued his work as a Systems Analyst on home soil. To this day he believes American universities set the pace for academic institutions around the world. "You have to give huge credit to the American education system," he says. "They share everything they learn; everything is published in academic journals and online. They are leaders in this respect." He graduated from Franklin in 1995, and returned to Dubai, where he was promoted to the role of Senior Systems Analyst. He found the initial homecoming tough, but quickly adjusted to his former culture.
The experience of working of working stateside left a lasting impression on Al Bastaki. He was struck by impeccable levels of organisation, clarity, and transparency in project management, "I gained a huge amount of knowledge from my professional experience in the States," he says. "Everything there is built as a system. All the steps in each process are clear; planning in the project is prioritised, as is teamwork." Al Bastaki is quick to describe these procedures as "far better" than those in the UAE, and that American companies and employees serve as a fine example that should be copied in the Gulf. "There is a commitment and pride that you see in Americans' work that is unlike what you see here," he says. "They are extremely dedicated, and are not as bothered about recognition or financial bonuses. They are constantly out to prove themselves even if there may be no direct incentive involved."
The lessons he has learned impact his management style to this day. "It has certainly made me better at spotting flaws in a project," he says, "People in Dubai are more interested in execution than planning, and as such a lot of 'trial and error' takes place. I struggle to teach people to sit back and think about the process and who or what will be affected before they go charging into something." Al Bastaki takes huge pride in ensuring his employees know "how to think, and not what to think."
In 1996, Al Bastaki was part of the IT team at ConocoPhillips that achieved unprecedented recognition for the region, by completing an 11-month implementation of SAP—the fastest in the world at that time. "I'm very proud to have been part of that team," he says. "Our project team leader, Derrick Hall, was a fantastic team leader and someone who hugely influenced me."
In February 1999 he became Head of IT Security and Services at aluminium firm Dubal, where he was enlisted to lead a major overhaul of the company's IT infrastructure. "Although Dubal was ahead of a lot of other companies, there was still a need to revamp the infrastructure," he says. "The hardware, network, storage systems and security all needed redoing, but the main challenge was the IT department's revolving door; there was a continuing change of personnel, which made life difficult." This process of changing the infrastructure was completed within two years. Al Bastaki chose to implement Oracle ERP, and he also caught the attention of sister company EMAL, and was enlisted to help design a new infrastructure for the last six months of his Dubal tenure.
In 2007 he left Dubal to become Vice President of IT at Dubai Silicon Oasis, where he was also made Managing Director of Dubai Circuit Design, and Vice President of Technology Investment for DSO during his tenure. Like Dubal, DSO was in need of an infrastructure revamp, and given that it was in the process of disengaging from DAFZA (Dubai Airport Free Zone Authority), Al Bastaki faced a familiar yet high-powered challenge. He was tasked with building IT services for the new location, and for new companies moving into the new free zone. "My initial work largely consisted of getting things ready for the new companies who were coming in," he says. "I was helping them look at how they could establish a business without investing in IT applications and hardware, and providing ERP cloud services." Unfortunately, Al Bastaki left in the pilot testing phase of the project, for what he describes as a "fantastic opportunity"—the role of Senior Executive Director of Information Management at Dubai Properties Group.
"Put simply, it brought an interesting challenge," Al Bastaki says. "Most of the company's IT services were outsourced when I joined, which was about a year ago." As has been seemingly customary in his career, Al Bastaki has had the opportunity to build "security, the network, ERP, CRM and the infrastructure" from scratch at the company. As well as transitioning all of his applications to the cloud, he aims to complete an e-services platform for DPG similar to the Dubai government's M-Gov initiative by the end of 2014.
Tennis lover Al Bastaki names Nelson Mandela as his inspiration. "For me, he is a genius," he says. "He managed to unite a country that had been torn apart for years. Somehow, he persuaded people to accept the idea of living with each other, and we need more people like that in the world."