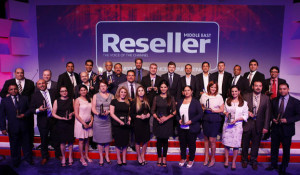 Amid much fanfare, Reseller Middle East (RME) celebrated its fifth annual Partner Excellence Awards, at Emirates Towers, Dubai, where it paid tribute to those players who have stood out and made a difference in the business in the last year.
Addressing within a packed Godolphin Ballroom last evening, CPI Media Group's Chairman, Dominic De Sousa gave the welcome speech setting the stage for the festivities that followed.
The event also featured a welcome keynote by Basil Ayass, Marketing Director, Dell, where he urged the partners in the room to differentiate their offering to succeed in the market and to embrace change, and also complimented CPI Media Group for organising such a hugely successful event. "CPI has raised the bar with this event," he said.
With awards across categories such as vendors, distributors, readers' choice and editors' choice, the evening saw not only many of the bigwigs walking away with trophies but also emerging businesses. The most prestigious category of the evening, Best Partner Excellence Programme, both from a distributor and a vendor was awarded to Mindware and EMC respectively.
Reseller Middle East also presented awards to Hesham Tantawi for Outstanding Executive of the year from the IT channel while Noman Qadir, from Citrix won the category from the vendors. Santosh Varghese from Toshiba was awarded the Partner Champion of the year while Reeman Ansari from VMware took away the trophy for the Woman Executive of the year.
The full length of winners were as follows and for pictures click here:
Vendor Categories         
Networking Vendor of the Year – Huawei Middle East
Storage Vendor of the Year – Dell
Software Vendor of the Year – Microsoft Gulf
Printing Vendor of the Year – Xerox Corporation
Mobility Vendor of the Year – Prestigio
Security Vendor of the Year – Dell
Systems and Hardware Vendor of the Year – Brocade Communications
Distributor Categories  
Broadline Distributor of the Year – Redington Gulf
Mobility Distributor of the Year – Metra Computer
Security Distributor of the Year – ComGuard
Specialised Distributor of the Year – StorIT Distribution
Emerging Distributor of the Year – EMT Distribution
KSA Distributor of the Year – Al Jammaz Distribution
Networking Distributor of the Year – Aptec, an Ingram Micro Company
Value-added Distributor of the Year – Westcon Group
Reseller categories        
Enterprise Reseller of the Year – Paladion Networks
System Integrator of the Year – EMW
SMB/Consumer Reseller of the Year – Quality Computers
Super Retailer of the Year – Emax
Editor's Choice categories          
Reader's Choice Vendor of the Year – Cisco
Reader's Choice Distributor of the Year – Logicom
Growth Initiative by a Vendor – Riverbed Technology
Growth Initiative by a Distributor – Despec MERA
Partner Champion of the Year – Santosh Varghese, Toshiba Gulf
Woman Executive of the Year – Reeman Ansari, VMware
Outstanding Executive of the Year, IT Channel – Hesham Tantawi, Asbis Middle East
Outstanding Executive of the Year – Noman Qadir, Citrix
Best Partner Excellence Programme of the Year – EMC
Best Partner Excellence Programme of the Year – Mindware