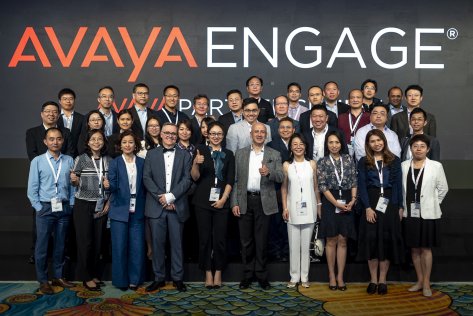 At the Avaya Partner Summit 2020, held as part of Avaya ENGAGE Dubai this week, Avaya Holdings honored 25 of its most stand-out channel partners from across the EMEA & APAC regions.
The awards, presented at a gala-dinner attended by over 500 Avaya technology alliance and channel partners, encompassed excellence in service delivery, open innovation, and cloud specialization. Winners included leading channel players in the UK, Europe, Middle East, India, China, and ASEAN regions.
Fadi Moubarak, Vice President – Channels, Avaya International, said, "The winners were chosen based on their demonstrated ability to increase their strategic importance and value proposition to Avaya customers over the past year. These channel partners have extended, designed and implemented compelling blended communication solutions that solved pressing business challenges for our joint customers. Honored here today are the disruptors, innovators and visionaries that are rapidly recognizing market trends and evolving their business to deliver outcome-driven solutions to the market.
Moubarak also affirmed Avaya's commitment to empowering its partners for success.
"Our unique Edge Partner Program, compelling channel initiatives and open standards-based ecosystem all contribute to making Avaya the ideal partner for channel organizations looking to differentiate themselves in the market and grow their business," he added.
Avaya used the Partner Summit to make key announcements around its new subscription program, latest cloud offers, and advanced custom applications leveraging AI and biometrics. These announcements were presented to partners as opportunities for targeting new and exciting business areas to accelerate growth.
The full list of Avaya Partner Awards winners can be seen below:
| | | |
| --- | --- | --- |
| Category | Winner | Country |
| Best New Partner of the Year – International | Data Hub Integrated Solutions (MORO) | UAE |
| Customer Engagement Partner of the Year – EMEA | Croc | Russia |
| Customer Engagement Partner of the Year – APAC | NTT Malaysia Solutions | Malaysia |
| Customer Engagement Partner of the Year – APAC | Itochu Techno-Solutions Corporation | Japan |
| Customer Engagement Partner of the Year – International | Dimension Data | South Africa |
| Enterprise Cloud Partner of the Year – International | 4Net Technologies | UK |
| Enterprise Distributor of the Year – International | Redington Gulf | UAE |
| Enterprise Growth Partner of the Year – APAC | PT. Phintraco Technology | Indonesia |
| Enterprise Growth Partner of the Year – International | Shanghai ChenGuan Communication Co. | China |
| Innovation Partner of the Year – EMEA | Quark Professional Services | Netherlands |
| Innovation Partner of the Year – APAC | Mahindra Defence Services Ltd. | India |
| Innovation Partner of the Year – International | CCT Deutschland GmbH | Germany |
| Mid-Market Cloud Partner of the Year – International | Bahrain Telecommunications Company | Bahrain |
| Mid-Market Distributor of the Year – International | Digital Paper Sdn Bhd | Malaysia |
| Mid-Market Growth Partner of the Year – EMEA | WTG Communication GmbH | Germany |
| Mid-Market Growth Partner of the Year – APAC | VIS Networks | India |
| Next-Gen Devices Distributor of the Year – International | Westcon | Germany |
| Service Provider of the Year – International | Hong Kong Telecommunications | Hong Kong |
| Solution Sale Partner of the Year – International | Hoshan Company Ltd. | Saudi Arabia |
| Art of Experience Award – International | Sichuan Changhong IT Information Products Co. | China |
| Art of Experience Award – International | Sabio Limited | UK |
| Art of Experience Award – International | Inspira Enterprise | India |
| Team Engagement Partner of the Year – APAC | Converged Communication Network Applications | Australia |
| Team Engagement Partner of the Year – International | Beijing Teamsun Technology Co. | China |
| Team Engagement Partner of the Year – EMEA | Middle East Telecommunications Co. | Kuwait |