For an IT decision-maker, Sebastian Samuel's values are somewhat polarised. The AW Rostamani Group CIO is determined to be at the fore of digital and business-driving projects, but retains a soft spot for all things green…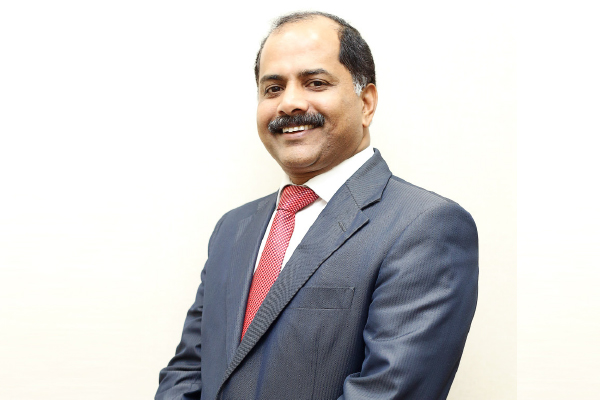 "Every day I'm outdated." Rather than a self-effacing outlook on his existence, Sebastian Samuel appreciates that in technology – and life – he finds himself facing a constant challenge to stay abreast of developments. "While you're asleep, you're missing out. The same goes if you don't read for 12 or 15 hours. This creates pressure to understand and keep reading."
The AW Rostamani Group chief information officer applies this philosophy to his professional and personal lives. He appreciates that the "digital mesh" that is now developing, demands that the CIO should constantly evolve and lead an organisation in its smart journey. "No CIO in this era should stand still," he says. "We should always be asking ourselves 'what next?' and leading the translation of emerging technology opportunities into business opportunities."
Born and raised in a Keralan village, Samuel went on to study chemistry at Mahatma Gandhi University in the Indian state, where he graduated in 1989. He went on to complete a postgraduate diploma in computer science, creating the foundations for a career in enterprise technology.
Upon his course completion, Samuel opted to remain at the institution in a tutoring capacity. He relished the chance to manage the next set of budding technology stars. "I had the opportunity to train around 750 computer science students," he says. "I was a guide for around 50 or 60 different projects, and my work mainly revolved around Pascal, and system analysis and design. It was also a great excuse to further my reading around my specialisation."
Following his two-year tutoring stint, Samuel's entrepreneurial flair kicked in, and he founded financial accounting and data processing software firm 'Bands Software Garden' in 1992. "The name 'Bands' came from the idea of people working together, and I chose 'garden' because I wanted a beautiful environment where software could bloom," Samuel recalls. His 35-person company, which featured two divisions, developed fully-encrypted software, which Samuel says was "unique for the time".
Shortly after establishing BSG, Samuel flaunted his passion for education, simultaneously undertaking a three-year Master's degree in computer applications from Bharathiar University. After running BSG for a number of years, Samuel received a job offer in 1999 that proved too hard to turn down. "My in-laws were starting a business in South Africa, and wanted to hire me as IT director," he says. "I had never wanted to leave India, but the opportunity seemed interesting so I took the chance." He sold his Bands Software Gardens shares and began what he thought he would be an African adventure.
Samuel would never make it to South Africa, however. He took a month-long detour to the United Arab Emirates, and shortly after arriving, got a job as an IT manager at a local software development company. "I was tasked with replacing a finance application which was used by 28 customers," he says. It didn't take Samuel long to become attached to the UAE. "After a year-and-a-half, I was settled and decided to stay. Things were much simpler back then, but there was already a positive vibe in the country, which was blessed with good governance. It was a 'make it happen' kind of place. I'd not seen anywhere in the world like it. I was definitely in the right place at the right time when I moved."
Having successfully completed the replacement of the application, pastures new beckoned for Samuel, and he joined AW Rostamani Group as an analyst programmer in 2001. The shift in roles and company size were an initial challenge. "It was definitely a step down in terms of responsibility, but I thought the role would have great growth prospects," he says. "There are two things I always look for in my career: how I can grow and what I can learn from a particular organisation."
Samuel was quickly vindicated in his decision, and by 2003 was overseeing the software selection process for the organisation's Oracle ERP. "I got an opportunity to lead a finance technical team," he says. Around the same time, Samuel also received job offers from American and Australian companies, but opted to remain in his role. "I thought Rostamani would offer me great long-term prospects," he says.
By 2006, Samuel had overseen the development of a "complex" ERP system. His successful delivery earned him a promotion to the position of applications manager, where he managed a team of 12 people. A year later, and the firm's CIO began a new division within AW Rostamani – the still thriving Shift Technologies – paving the way for Samuel's rise at the company. He was initially made acting group IT manager for the company, and was offered the position on a permanent basis after four months.
Over the next five years, Samuel established a reputation as a dynamic IT leader within the organisation. By 2012, his designation had changed to group head of IT, and two years later, he was officially given the sought-after title of CIO.
Samuel has since flourished in the role, and in a relatively short space of time has defined exactly what he believes the role should bring to an organisation. "If mine and my team's work can't deliver value, it's meaningless," he says. "Cutting-edge technology that drives business value has purpose." Looking forward, he believes the CIO needs to be assertive in sharing their expertise with the business. "The CIO needs to be collaborative," he says. "A digital journey must involve a bit of the CFO and the CMO, some of the CEO and a lot of the CIO. We have to guide the business and highlight opportunities that emerge in technology, and how they can provide a competitive advantage. All that matters in a project is how it benefits the organisation. Once you have the stakeholders' trust, they'll keep coming back."
The prospect of turning AW Rostamani into a digital organisation does not faze Samuel, however. "I've never been bothered by challenges in my career," Samuel says. "In fact I love them. It's a CIO's job to find solutions to challenges, and I've always enjoyed that aspect of the job. I've never run off to my comfort zone and believe I have thrived in difficult periods."
Despite his passion for game-changing technology, Samuel will always retain a love of all things rural. Having recently purchased farming land in Kerala, he harbours an ambition to return to his roots and give something back to mother earth. "I love nature, and as long as I have high-speed connectivity I would love to go back and live on a farm," he says. "In future, we as human beings will need clean air, fresh water and fields."
Samuel is mindful that, like the technology industry, the market for commodities may evolve drastically in the near future. "I still remember when mineral water came on the market in Kerala, which no one thought was necessary," he says. "Now that's the norm. Vitality Air – a Canadian company – is now selling pure oxygen cylinders in Indian and Chinese industrial cities. Who knows, maybe in 15 or 20 years we'll be buying them in the same way that we now take mineral water for granted."