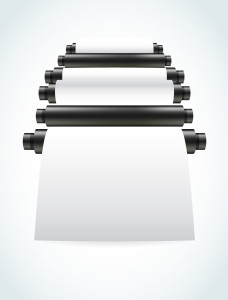 The regional channel is identifying the opportunities that services bring to the table. Managed Print Services (MPS) is one such opportunity where businesses are able to reduce printing costs and improve productivity significantly, among other aspects. Reseller ME finds out how channel partners can make the most of this to increase their profitability.
Anything that can reduce cost and increase efficiency for the business is accepted and adopted faster. Solutions in printing have climbed to a new benchmark with Managed Print Services (MPS). It enables organisations to focus on their core business while having its print services managed by a capable third party. Analysts have forecasted a robust double digit growth for this segment regionally. And large players in this field are showing keen interest in moving away from traditional business models to introduce MPS in their portfolios according to a report from IDC. Partners therefore have a huge opportunity, provided they consider it a point to train themselves in this space.
According to Naji Kazak, Director of Channels, Lexmark Middle East, organisations must link both digital and physical worlds to be able to manage unstructured information. "Capturing content needs to be done in a way that is seamless and simple, not just from a scanner, but also from other sources such as online forms, fax and email, and mobile devices. And, it must then be managed in a smart way that allows users to easily locate, access, and process that content for the good of the business and its customers."
Kazak encourages organisations to cut paper waste and improve efficiency. Currently, businesses in the Middle East are striving to bridge paper to the digital world, this is where MPS plays a significant role.
Another reason why this technology has a huge potential for channel partners and vendors is because the penetration of print services remain low in the Middle East as compared to Western Europe.
Ashwin Venkatchari, Senior Program Manager, Imaging Printing & Document Solutions, IDC MEA, says, the number of implementations of managed services in both the public and private sector across the Middle East has increased substantially over the last few years, which is in line with increased adoption of cloud-computing and SaaS models in the region. "As a result of the improved awareness in managed services, the number of MPS implementations in the Middle East has grown considerably. MPS providers have also integrated features such as cloud print into their hardcopy devices, recognising the trend towards mobility of the business environment. The ability to print wirelessly from a smartphone or tablet, while still ensuring that security and sensitive documents are protected has become a requirement in most business environments."
Partners' scope
And those partners that have the proficiency to roll out successful MPS solutions will be able to reap the benefits of being an early mover to this technology. "Channel partners that possess expertise in the MPS arena have significant opportunities to augment their business and enhance their offerings," Kazak adds.
Although Dr. Sassan Dieter Khatib-Shahidi, CEO and Executive Director, Board of Directors, German Imaging Technologies (GIT), agrees that there are significant opportunities for the channel partner in MPS, he says the market scope is limited. This is because MPS is often advertised as a cost saving solution. "However, the cost saving only lies if businesses reduce their print volumes as you pay as per the page cost. In a managed print environment, there are various other aspects to it, which makes it an expensive solution for the consumer, it is not something that fits the requirement of all users and more than SMEs, the larger businesses are prospective customers." With SMEs forming almost 95 percent of businesses in the region, it leaves only the remaining 5 percent as a potential market for this technology, which includes the larger entities such as government and financial institutions. Out of this 5 percent, not all companies will be interested in MPS, therefore the potential customers reduces to about 2 percent of the market size. And almost all major OEM vendors are competing in this space. "Any independent partner coming along must realise that in most cases, they are directly competing with the large vendors as they offer solutions directly as well," explains Khatib-Shahidi. "Partners definitely have a large opportunity but not one without challenges. They need to invest time and resources and train themselves to be experts in this field."
Countering this point, Kazak from Lexmark adds that the company has specific solutions for different segments of the market, including small businesses. "The definition of MPS differs from person to person. A small business might use one part of the solution and term it as MPS. We cater to all the market segments, adapt according to customer demand and have specialised tools to cater to those demands. From a partner point of view – we have fully-equipped partners and even those who have limited or no capabilities at all. We work together to enable them to better serve their customers with MPS solutions. We complement rather than compete with them."
MPS might seem like a big investment but it is a one-time investment which helps customers save on the longer run. If customers are hesitant to deploy it, we are also willing to do pilot projects and proof of concept and show the areas for actual savings. This way he can be completely sure of his investment."
Venkatchari says while the transactional hardware and consumables markets can be volatile, and are often dependent on prevailing economic conditions, the print services market provides channel partners with higher revenue certainty with multi-year contracts. Currently, the channel in the Middle East region implements the complete print service contracts. The level of support offered to print services partners differs significantly from vendor to vendor. As a result partners are often required to manage the entire life cycle, from client engagement to service fulfillment, he adds. "Through continuous analysis, MPS providers are able to estimate page volumes for clients with a high degree of accuracy. MPS contracts are also an effective means of securing consumables revenue, preventing unwanted competition from aftermarket options such as counterfeit and refillers."
Future path
The way forward for channel partners may not be crystal clear at this point of time but the significant opportunities present in MPS cannot be discounted. Partners should look at investing in developing print services capabilities and strategies aimed at partnering with local providers to meet customer demand, says Venkatchari. "Going forward, partners need to promote device ability to be integrated into document workflows and business intelligence solutions, starting with paper to digital document management."
"As you are aware technology is constantly evolving for the better. To stay ahead of the curve, we urge partners to take regular training sessions and be in tune with the current trends and customer pain points so that they are well-versed with the issues that may arise. It is an intrinsic part of the business and allows them to remain competitive and deliver value-added services," Kazak adds. "The main motivation is to win new business and provide the best service to their end customers. The more training and certifications they have the better poised they are to keep up-to-date with the trends and technology advancements that we are applying."