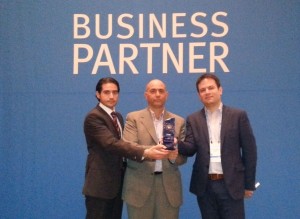 For the second year in a row, MATCO came out a big winner at the 2013 EMC Europe, Middle East and Africa Velocity Solution Provider Breakout awards.
MATCO was recognised as the Best Reseller of the Year. The event, which was held as part of EMC's Global Partner Summit at EMC World, was attended by more than 750 EMC Channel Partners from EMEA and was held from May 6-9, 2013 at The Venetian, Las Vegas, Nevada.
MATCO ICT Managing Director, Toni Prince, who was present to receive the award commented, "MATCO is highly recognised by receiving such prestigious awards; a TEAM region award in 2012 and an EMEA award in 2013 showing our continuous commitment and dedication to this valuable partnership.  This is also great news to add to the fact that MATCO has been appointed as the first EMC Signature Solution Center Partner in Saudi Arabia.  We now look forward to the coming year to introduce and increase sales of more of our products and services to the Saudi market."
Award winners were selected based on their relationship and commitment to EMC, as well as their ability to extend EMC's reach into the marketplace and add value to its information infrastructure solution offerings.
"It is always a pleasure to recognise channel excellence and this year's awards are no exception. We are pleased to recognise MATCO's accomplishments with an EMC 2013 Best Reseller of the Year in EMEA award. In addition to being a loyal reseller, MATCO was recognised for this category as it had the highest growth rate in the EMEA region," said Philippe Fossé, Vice President, EMEA Channels at EMC Corporation. "As EMC continues its commitment to the Channel, we look forward to further advancing our relationship with MATCO as we work together to ensure it has the power to lead the transformation for not only its team, but also its customers."