Riverbed co-founder and CEO Jerry Kennelly was in Dubai recently to announce a key partnership with Dubai Police, and spoke to Tahawul Tech about how the company is gearing up to take on Cisco in the SD-WAN market.
What are the main reasons behind your visit to Dubai?
I am here to formally a sign a partnership with Dubai Police. They have been a key customer for many years, and one of the wonderful things working in the IT industry is the type of people you get to associate with; people who are forward-looking and doing some cutting-edge stuff. If you look at the productivity increase in the world economy, one of the sources of that is the correct application of IT in running operations. Governments represent around 20 percent of our worldwide business, and we sell large scale, enterprise-class IT products to the largest companies and governments around the world. Dubai itself is a forward-looking city and you have the advantage of not having to deal with IT systems from 1940s. Dubai Police have a strategic mission of providing the best services to citizens and residents, and achieving the lowest crime rate on the face of the earth, with the innovative application of IT. We are going to provide Dubai Police with enabling technologies and infrastructure pieces to achieve these great goals.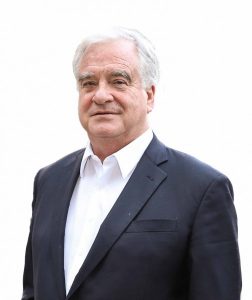 Do you think backend IT systems are ready to support digital transformation?
We are the people who make apps go faster and more cost-effective, and give the best response time at the lowest cost possible. There are two issues with network performance today – speed and bandwidth availability. Our core product Steelhead does those two things; it makes networks 10 times faster and lowers the cost of bandwidth by 90 percent, and that is what attracts large enterprises, including Dubai Police, who have to manage 80 sites. The other issue with app performance is the lack of visibility into what is going on inside your network. To a casual user, a big network just runs perfectly, but for a network manager, they are facing the daily nightmare of having to manage a complicated system that encompasses switches, routers, servers, storage units and myriad applications. When an application slows down or when the network breaks down, it is a nightmare to diagnose and fix problems. We sell diagnostic tools that will give complete network visibility, so if something goes wrong you can fix it within minutes instead of days or weeks. This is very important for anyone running a large network. We have the leading technologies around network management and control, which go along with other products that can optimise your network, and make it cheap and faster.
Do you think WAN optimisation is going be to the foundation of next-gen IT infrastructure?
WAN optimisation will always be important. Networks are still expensive, especially in this part of the world. Overcoming the latency of speed and light limits on data transfer will always be a problem because you can never exceed the speed of light. So, I think there is a permanent market for WAN optimisation but the emphasis will shift over time to this new area within networking called SD-WAN. We have recently forayed into this market with our SteelConnect product, which is going to be the centrepiece of our product offering in the future, and our WAN optimisation, visibility and management products will just plug into this, all managed holistically through cloud orchestration, allowing you to find the best routes for network traffic, toggling between service providers to make your network a lot more efficient and cheaper. 
 According to Gartner, SD-WAN accounts for just 5 percent of the networking market. Do you really think companies will manage their WANs through software?
They will. SD-WAN might be a nascent technology, but that is all customers talk about these days. It is going to be the main network product for the next 30 years and right now, we are in the first year of those 30 years. Everyone is talking about it, looking at it, and buying has not started yet. However, it is going to pick up momentum like a flywheel, and you will see a big push in the second half of this year. The real growth in the SD-WAN market will happen in 2019 and by 2021, every company will go SD-WAN.
With the SD-WAN controller, you are going from niche to the mainstream networking market. How do you plan to take on Cisco?
We are going to take on Cisco on their home turf and do to them what we have done in the WAN optimisation market. When we started out with Steelhead, no one knew about us and we were just a 200-person company, while Cisco was the biggest brand in the space. 
Now, 16 years later, we have 60 percent market share compared to their 20 percent. If you follow Cisco, their emphasis has shifted away from networking to enterprise computing. The reason we were able to defeat them in a niche market such as WAN optimisation was because we have the best product and technology. And this is exactly what we are going to do in the SD-WAN market. We are the new Cisco.