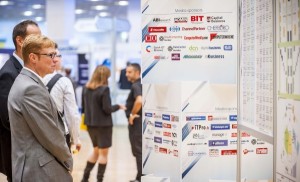 Nowadays, most would be hard-pushed to argue that technology trade shows are nothing more than a shop window for shameless self-promotion from industry top dogs.
They're all there; those who can provide 'market-leading innovations', 'first-of-its-kind technology' and products that are 'like nothing seen before'.
But for event organiser and CEO of Angel Business Communications, Bill Dunlop Uprichard, this is not what Powering The Cloud's tenth anniversary offering in Frankfurt is about. He believes that the show's impartiality is certified by its neutral management and informative speakers, "The main advantage of Powering The Cloud is that it is a vendor-independent invent. I find that vendor-based events tend to become an exercise in self-promotion, whereas this one is endorsed by industry associations like SNIA [Storage Networking Industry Association]," he told Reseller ME.
"One of the things we do is help build trust and security between businesses. We do a lot of work with independent analyst houses, and the majority of their research tells us that security and reliability remain pressing issues. First and foremost we hope that the event can educate people, and give them an increased understanding of how their businesses could improve with emerging technologies."
Consisting of SNW Europe, which is in its tenth year in Frankfurt, along with the Data Centre Technologies and Virtualisation World events, both in their fifth year, Powering The Cloud is a gathering and forum for Europe's CIOs, IT Managers and Senior IT professionals.
The agenda was packed with break-out sessions and keynote speeches from some of the industry's most highly regarded speakers and thinkers. There were also two debates – on Big Data and Managed Services – featuring a series of speakers and analysts who aimed, above all, to bring sensible conversation to the two topics.
Boasting over 130 conference sessions, and with over 1,500 delegates from around the globe, there could be little doubt that the event served as the seminar that Dunlop Uprichard intended. The speeches covered such diverse themes of cloud, Big Data, data security, IT management, data centere technologies and application delivery.
Both Dunlop Uprichard and Bob Plumridge, Chairman of the Board of SNIA, said that Powering The Cloud has come a long way since its inception 10 years ago, and through its evolution, the event can now provide a concise, educational show for IT professionals,
"It is completely different now than when it started. In its inception, it was a purely hardware-based show – disk drives, cash memories, that sort of thing. People weren't too bothered with security back then," Plumridge said.
"Those shows were showing comparatively basic things. Now we focus largely on things like cloud and Big Data, which were not even dreamt of then. From our point of view, it can offer a huge amount of vendor-neutral information on these topics. The show provides a great opportunity for vendors to speak directly with one another and see what's going on."
Yes, the show was vendor-agnostic, but this did not mean that vendor representatives could not take part, so long as what they were putting forward to the audience was informative – not promotional. The keynote speeches, then, featured speakers from a variety of high-profile companies. As Plumridge explained, topics of discussion had moved far past what new pieces of kit can do for organisations. And this year, arguably the most focus was put on privacy and data security.
For example, Robin Kuepers, Storage Marketing Director, EMEA, Dell, focused his speech on overcoming a paranoia that can so easily engulf an organisation, "People have to live with the reality that having your data hacked on a public cloud is always a possibility. Privacy and security are important things, but to what level can you guarantee them?" he asked.
"I think people accept that whatever data you put online in any form there is always a risk that it might be hacked, whether it is an online bank account, or the use of PRISM to stalk individuals' information. It is just a question of reducing that risk so that it is unlikely to happen."
Plumridge reinforced this view. "Through education people can be made confident that property is secure, and they may double-check decisions and assess what their partners can offer," he said. "I do think PRISM will affect the uptake of cloud. Not necessarily the private cloud, but certainly in terms of the public and hybrid clouds."
Elsewhere, Shaun Walsh, Senior Vice President, Marketing and Corp Development, Emulex, used his window to home in on the issue of networking advancement. "We are entering the age where we become the mobile device. By 2016, network traffic will have multiplied five times, and by 2020, 40 percent of all servers will be deployed within the cloud. We will witness a variety of system migrations across the industry, and these are exciting times."
Dunlop Uprichard had some final words of wisdom to all at the event: "The most important thing is that companies do their due diligence as to who they're leaving their data with. They will always be in control of large parts of their data, but fortunately cloud is flexible in its delivery of how companies manage their data, so people always have choice."
The channel's role
Where does the channel fit into this desire for cloud computing that guarantees data security? Well, for one thing, regional distributors are beginning to find that providing cloud services can open up new revenue streams as their margins on boxed products continue to shrink. And as cloud uptake in the Middle East has been stymied by concerns over data privacy and security, those now looking to provide cloud services are turning to data security as a key differentiator.
Private clouds will play a key role in the years to come, according to industry experts. Banks and financial institutions have already experimented with private clouds to streamline business processes, and other verticals are following suit. It is on the channel to ensure that these organisations are well educated about both the possibilities and limitations of private clouds, adopting a more consultative role. Distributors, resellers and systems integrators have already begun partnering with cloud providers, and these early birds will be the ones to cash in once cloud uptake begins to skyrocket, as analysts believe it will.
The channel, however, must ensure that it can provide safe and secure cloud services. Any damaged reputation this early on could prove catastrophic later on in the game. Make no mistake – security is currently the biggest talking point when it comes to cloud.