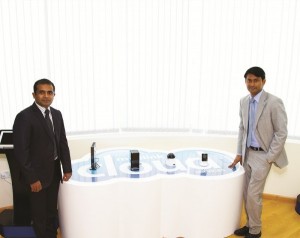 Despite a very challenging political and economic milieu in the region, the home networking major D-Link has grown at a very healthy 18 percent in 2012, and now the company is eyeing opportunities in the personal cloud space.
Demonstrating the fact that the move to cloud isn't just for businesses, D-Link has rolled out an array of products that leverage cloud services to give consumers more access and control over home networks. A case in point is D-Link Cloud Router that lets you use the free MyDLink iOS or Android app to keep tabs on what is using your network, delivering top speeds of 300 Mbps.
D-Link's cloud computing lineup also includes a range of new network cameras, which let you monitor your home or office remotely, with integrated powerline technology.
"In 2013, personal cloud is going to be the focus for us, with the basic concept being access, share and control. Our motto is to make products that require zero-configuration," says Harrison Albert, Director at D-Link MEA.
D-Link, which made its debut in the Middle East in 1998, has had a very organic growth, underpinned by a localised approach. "When we started off here, brands such as 3Com and US Robotics were very strong and we had to adopt a unique approach to differentiate us. We tried to understand what was required by the market and deliver customised products. This is why today, in the most of the big countries in the region we have a local presence," says Albert.
D-Link has local presence in countries such as Iran and Iraq, website in Farsi and Arabic call centres to cater to the needs of the local market.
The company, which was very product focused, also evolved its go to market strategy with a focus on the market and their solutions needs with a broad spectrum of products that spans across all kind of infrastructure including surveillance, storage and wireless.
"It was from 2009 onwards that we ventured into the solutions business and telco segment. We wanted to strengthen our resources to offer better services around the solutions," says Albert. As part of this strategy, D-Link has invested in a HQ located at Jebel Ali in Dubai, with 23000 square feet of warehousing space that enables faster time to market.
Also, the company has invested in a demo and training centre within the same facility to offer free training to its partners and customers. "It's built on the ideology that it should be a cost centre, not a profit centre. In the first stage, we are training our distributors because they have to be confident about our products and support it even to the level of implementation. Once that is over, we will start training system integrators and IT managers," says Albert.
D-Link, one of the very few networking vendors with both active and passive solutions, is also geared up to meet the challenges in the networking space, where short term business and volumes are dwindling. "The networking product refresh rate is being extended from three to five years and the demand has stagnated. And a couple of things which was supposed to ignite demands haven't really materialised. A case in point is IPv6, which was supposed to fuel demand for new hardware," says Albert.
He adds that mobility will be one of the biggest drivers for the industry this year. "Historically, Gulf and Africa countries have been dominated by monopolistic telecom incumbents and as a result, the infrastructure hasn't reached the masses. Now, there is a massive push towards Internet penetration and the only way you can reach more people without cabling is 3G and LTE."
Albert says D-Link is uniquely positioned to cash in on the mobility opportunity and aims to be the brand that is available in the maximum number of retail outlets when it comes to 3G and LTE.
D-Link is also in the process of fine-tuning its channel strategy with a refreshed parent portal to reinforce the brand loyalty. "We are revamping our corporate website and along with it a new partner portal. Earlier, our partner portal was managed globally and we decided to have it localised with multiple language options coming later. This portal will be rich with local case studies, product resources and certification," says Albert.
D-Link has a conservation approach when it comes to distribution, according to Sakkeer Hussain, Sales & Marketing Manager at D-Link.
"We have 50 odd disties covering the region and out of that 20 have been with us for more than a decade. We believe in having in-country distribution though sometimes a reseller in Dubai might generate more revenues that a distributor in a small African country. Barring Aptec- an Ingram Micro company, which is a regional distributor for us, we have in-county distributors all over the Middle East and Africa."
D-Link has recently signed up a distribution agreement with Solvin, a subsidiary of Jumbo Electronics, for Kuwait. "Importing products to Kuwait, especially wireless, was proving to be difficult and that is when we realized the need for an in-country distributor in Kuwait, "says Hussain.
By educating the channel and foraying into non-traditional markets, D-Link is now hoping to be more than just a consumer brand. And going by its strategic alliances and reinvigorates channel, the company seems to have an extra edge in achieving that goal.