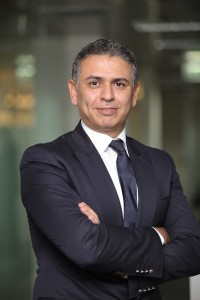 SAP this month announced that it had signed Injazat Data Systems on as a value-added reseller. We speak to Qais Gharaibeh, UAE Managing Director, SAP MENA, about how the partnership will help the vendor's drive into the public sector, as well as maintain double-digit growth throughout 2013. 
What does the new partnership with Injazat mean?
We've been in discussion with Injazat for quite some time, and we've always wanted them to be one of our strategic partners. This is because of their local strength and their capabilities in terms of the data centre – they have a data centre which, we believe, could add great value to a lot of SAP customers. Being a managed service provider, they can make use of all sorts of services from SAP, and help customers run better. We've looked at strategies with them and we're happy and excited to finally have signed this agreement with them, which is basically a value-added reseller agreement.
When you look at the SAP ecosystem and channel organisation, we base our aligning with partners on a number of partnership pillars. One of them is, of course, value reselling, where we enable and empower partners to be able to take SAP software and intellectual property and resell it to existing customers. There's also the system integration capability, which enables customers to enjoy implementation services from partners using different industry expertise as well as solution expertise. And then, of course, we have our partnerships and alliances with the management and consultancy firms, which is also important in helping drive the customers processes on how they can best implement operational efficiencies.
Additional to that, we also embarked on discussions with several partners related to business process outsourcing, so there's a very good scale where we feel our discussions with Injazat could eventually stem into all of those different pillars. We started with a value-added reseller agreement and we believe that this will enable both of us to have a good entry into the marketplace together, based on which we will be able to expand. They will have system integration capabilities, and they will be able to embark on these discussions immediately with customers.
What kinds of customers will SAP and Injazat be targeting following the announcement of this partnership?
In reality, we would like to leverage both our strengths. We have powerful solutions for the public sector, and Injazat has a major strength to engage in that marketplace. This is mainly going to be the key focus area that we're going to start on. However, we haven't framed or limited what type of engagement we can have – we're open to engaging wherever a strong-value proposition this partnership can bring to customers.
How does the SAP business break down as a percentage between public sector and private sector?
We try to keep a good balance between those two sectors because they're both important in driving our growth. And we have strong solutions to cater for both market segments, I would say. The public sector is just one of 24 primary industries in SAP's portfolio. We have strong offerings in that space, and you've probably heard about the recent market acceptance that we've had within and around the UAE. There's recently been an announcement with the Iraqi government, and soon you're going to hear a couple more announcements that will give the market more confidence of the strong acceptance that people have for SAP in the public sector.
But we continue to grow in a number of industries – for example, we're putting a big focus on financial services here. We also have our traditional strength in process and manufacturing. We are also building a local focus on the services industry, including transport and aviation, as well as logistics. We're really in a magical time for SAP, when we have a strong fit between our solution portfolio and our industry expertise in what this market is all about.
Will the Injazat partnership see your public sector share grow?
Absolutely. We haven't talked about specific numbers, but I believe the opportunity is tremendous. With both of us focusing on it, we should be able to build some strong coverage and it all relies on the exciting value that we can bring to organisations in different areas related to public services. There's also been some heavy investment from the government related to heavy industries, so we believe that we will be able to have exciting conversations with those end-customers about what this partnership can bring them.
What kind of general growth do you expect the Middle East to yield in 2013?
Last year was an exciting year for us – we struck double-digit growth in the region, and we will continue to target double-digit growth in 2013. We are backing this up with tremendous investment in both our partners and ecosystem, as well as having our own local presence. The SAP MENA strategy has always been focused on building local capacity, and we do that either with our own resources or by working with partners. The partnership with Injazat is an expansion on the execution of this strategy. We believe that the market has tremendous opportunities, and our success can only be solidified by working with partners. And we believe that we can bring strong value to our customers by making sure that partners such as Injazat are well-enabled and empowered to deliver the SAP value.
What's your relationship with Injazat been like in the past?
The relationship is fairly recent, actually. We've been in discussions for a good part of the second half of 2012. The discussions, of course, have been the result of talk across both organisations. We have the right commitment in place, they were with us in Madrid in November 2012, and the excitement built up around the room about the potential of what we could do together. And this is where we decided to progress towards concluding a contractual agreement and putting the excitement into action.
Which SAP solutions to you think Injazat will specialise in?
We have our innovation with HANA, and we've recently announced our Business Suite with HANA, which really revolutionises how businesses can run their operations. We believe that this will have a tremendous market opportunity in the UAE. The discussions with Injazat included coverage for these types of solutions, for both existing customers and new customers that we can cover together. Parallel to that, the conventional business of SAP in enterprise resource planning, as well as business analytics is, of course, going to be the standard type of approach that we're going to have with Injazat as well.
Would you say that HANA is what you're really trying to push in the Middle East?
Without a doubt. The business value that HANA can bring to existing SAP customers, as well as non-SAP customers, is really amazing. With HANA, customers will be able to compress their business processes so that they run more efficiently, and it will enable them to have more time to make decisions, meaning they'll be able to steer their businesses in a more agile way. This has been well-received by various customers across the region. I promise you – soon, you will hear a lot of exciting news about customers coming on board.
Are there any more partnership announcements on the horizon?
Not at this stage. We are continuing to grow our partner ecosystem – there's an extensive team that's working on making sure that we are able to build the local capacity to cope with the local demand. All the way at the top of the organisation, we can clearly see that our success comes from partners, and value to customers is enlarged when we work with partners. It's a really exciting time. We're happy to see ourselves delivering more and more on our strategy, and we can see it really working for us and our customers, as well as our partners. This partnership with Injazat is definitely an important milestone on our journey to execute on this strategy.