Avaya's VP of Emerging Regions, Nidal Abou-Itaif is looking forward to a channel driven 2013 and believes it is the perfect time for the company's 25 carefully selected regional partners to push new technologies.
A few years back Avaya's channel only accounted for about 60% of its global business. Much of its US sales, as well as some of its Europe sales, were attributed to direct business.
However, the managerial decision was made to reduce this direct business and become a channel driven company. These days, the channel contributes more than 80% of Avaya's sales.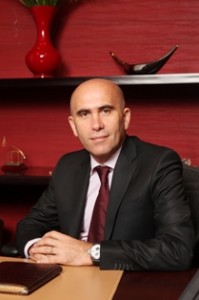 After seeing success through this method, Abou-Itaif says 2013 will continue to centre on Avaya being almost 100% channel driven in the MEA region.
"We address the market through our channel and have only a few customers direct," he says. "The direct accounts, which we have no plans on giving to the channel, are due to a special agreement for them to utilise our technology. We deal with them like a partner, whilst the remainder will continue to be channel driven."
He adds that "the time is now" to put new innovation in the market because end users no want to use IT to build for the future.
With this in mind, Avaya wants to reward partners for adapting its technologies and selling them to the market.
"We want to reward them with better margins, discounts, selling next to them and also certifying them to do that. I believe that the partners that adapt to the change will be the partners that will be the focus of our new work and innovation. The majority of the business will come from new innovation that the young generation is demanding and we believe that partners that are willing and brave enough to accept the changes will work with us best."
Avaya takes the approach of signing fewer partners – 25 in the region – than other organisations of its size and believes this allows them to make more margin than with its competition.
As further incentive, it now extends what it calls New Product Initiatives (NPIs) to its partners for extra discount. "We also incentive tem on rebate and help them with implementation," Abou-Itaif says.
However, the key to mastering the channel is convincing resellers to specialise in your technologies. Abou-Itaif believes this largely comes down to mindset.
"If a partner is not able to change there is no way I can train them to change. So it's the business decision of the partner to say that they are ready to change and want to adapt to the technology.  They also need to understand they cannot do it all on their own.
"They need to cooperate with other partners to form an ecosystem around us to put the solutions to market. If they are a small player they may need to partner with a big company or if they are a niche player they may need to make themselves available for acquisition. That's how we will encourage them to change. Over the last three years we've made sure that if people don't change we'll change them, so today I have people talking about the future now and understanding what the customer wants."
The right understanding
Avaya's partners, Abou-Itaif says, understand the customer more than they understand the technology.
"The minute they understand the customer they can bring the technology into it, they can't do it the other way around. We moved from value selling to solutions and trained our partners. Some partners are changing, some are not. I want them all consolidate, become stronger and acquire companies to complement our solutions," he says.
"It's a journey but we chose 25 partners for 2013 and we have a business plan together, we evaluate their people together, we have a monthly meeting and every five or six partners are sponsored by an executive from EMEA who looks into that transformation with the partner. For those 25 partners it has so far become positive and I hope that continues."
Avaya announced during GITEX Technology Week 2012 in October the signing of a memorandum of understanding (MoU) with Dubai Silicon Oasis Authority (DSOA) to open its Middle East, Africa and Turkey training centre in the integrated free zone technology park.
The dedicated training centre within Dubai Silicon Oasis (DSO) will feature Avaya's latest video and networking products.
Partners and enterprises from the Middle East, Africa and Turkey region will be able to use the centrally located facility to increase their knowledge of Avaya video, networking and midmarket technologies, while obtaining industry certifications on new communications solutions.
"We already had a certified partner that did training in the region but then we realised it wasn't fast enough in gearing up to the technology we have," Abou-Itaif says. "The end user wants to have the training as part of the solution.
"We also realised that for people from the Middle East, even though we have a training centre in South Africa, it's not easy for them to get there. So what I've managed to deliver with the approval of my management is to bring a training centre to Dubai Silicon Oasis which is beginning as a video training centre for MEA because video is the new way of communication."
He concludes that the new training centre is proof of Avaya's commitment and investment in the regional channel.
"We're adding more sales force in the region to help sell the technology and are adding more professional service to help them evolve and make sure they're not afraid to brake that 'it's new' barrier. As a company we continue to improve our tools and processes to make it easier to do business and adapt to the new world."