Alibaba Group has announced that it will buy a stake in Turkey's leading e-commerce platform, Trendyol.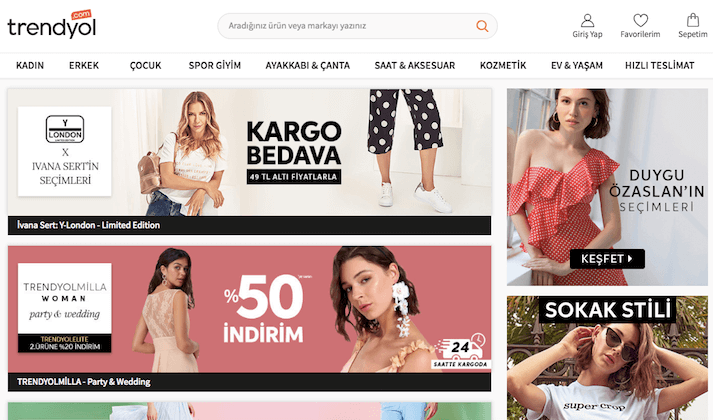 The deal marks the largest internet transaction in Turkey to date, according to both companies. The deal's value and other financial details were not disclosed.
As part of their partnership, the companies will cooperate to help Trendyol, which has over 16 million customers, accelerate its growth. Trendyol will also leverage Alibaba's capabilities in technology, e-commerce, mobile payments and logistics in the growing e-commerce market fueled by a young, tech-savvy population.
"With only 3.5% of the country's retail sales currently online, there are significant opportunities for Trendyol to help foster the transformation of the region's retail infrastructure," the statement said, adding that the region's three million small to mid-sized businesses and strengths in manufacturing and logistics can provide a boost to Alibaba's future growth in the area.
The country's e-commerce market volume in 2017 was 42.2 billion Turkish liras ($9.19 billion), up from 30.8 billion Turkish liras the previous year, according to a May report from the Turkish Informatics Industry Association.
"Turkey is an exciting and important market as we assess the development and proliferation of digital economies in the region and around the world," said Michael Evans, president of Alibaba Group, adding that Trendyol's founders will stay on and continue to lead the company. "We will continue to support Turkish brands, merchants and manufacturers in their journey to become truly global."
"We are very excited about this partnership. The two companies share a very similar culture, values and both have huge ambitions for the digital economy," said Demet Mutlu, founder and CEO of Trendyol.
"In particular, we will work with Alibaba to help Turkish brands, merchants and manufacturers to reach hundreds of millions of shoppers globally, and we will continue to serve our customers and contribute to the development of the digital economy in Turkey and the broader region," she said.