Huawei Tech Investment Saudi Arabia announced the inauguration of its first ever store in the Kingdom which opened at Riyadh Park Mall in the capital city Riyadh.
The official opening was attended by Deputy Governor of investments for the Saudi Arabian General Investment Authority Sultan Mufti, Li Huaxin, Chinese Ambassador to Saudi Arabia, and C-level Executives from Huawei and members of the media.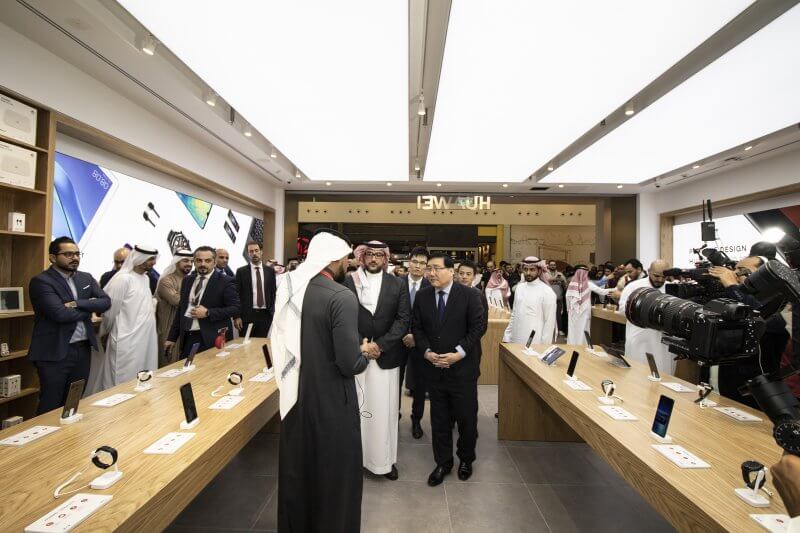 At the opening ceremony, the Deputy Governor of investments for the Saudi Arabian General Investment Authority Sultan Mofti praised Huawei's commitment towards investing in the Kingdom and all they provide to local businesses and individuals.
"Huawei is a great example to all foreign companies investing in the Kingdom. They have exhausted many efforts towards providing the best that information technology and communications services has to offer, as well as contribute towards the development of the ICT infrastructure in accordance to the highest global standards for quality and security. They also work to develop our local Saudi talent through their training initiatives like the 'STEP- Program for enabling Saudi Talent' which aims to train 10 thousand male and female candidates by the year 2020."
In 2016, the Chinese company became the first organisation to be granted a 100 percent foreign ownership trading license in the Kingdom.
Meanwhile, Bill Yu, Vice President of Huawei Tech Investment Saudi Arabia said the flagship store launches at a time in which consumers here are asking for more innovative flagship products from Huawei. "We are confident they also want to learn more about these products that swept the global market and competed fiercely to be the best.
"In order to provide an advanced and classy shopping experience for our customers in Saudi Arabia, we have brought and adopted the latest retail systems in our stores in Saudi Arabia, which will provide a new experience that includes intelligent storage, online ordering, home delivery and off-site payment as well as a slew of other services which will take our customer service experience to the next level."
In addition, Yu noted that Huawei believes in the importance of developing and training Saudi cadres and creating job opportunities for them. The company's new retail system will create around 100 job opportunities and training for Saudis over the next five years. It will also hold training courses in multiple technology areas that will benefit more than 360 people a year. At the same time, it will invest over $6 million in the new retail system in Saudi Arabia over the next five years and will collaborate with its partners in the Kingdom to enhance the experience associated with retail sales in the Saudi market, ensuring joint success for Huawei and its partners in Saudi Arabia.
According to Yu, the Huawei store will be run by highly trained Saudi youth, both male and female. "Huawei has full confidence that the Saudi market's appreciation of the Huawei brand will increase with the energy, passion and determination of such young talents. This is a unique store for our users to enjoy amazing experiences when visiting, in which they will be advised not just by a sales team, but by highly skilled and trained Saudi consultants in addition to a state-of-the-art retail system which will provide a great shopping experience."