Dubai Holding and Emaar Properties have announced the launch of Dubai Square, a new retail metropolis for of modern retail and leisure in Dubai Creek Harbour.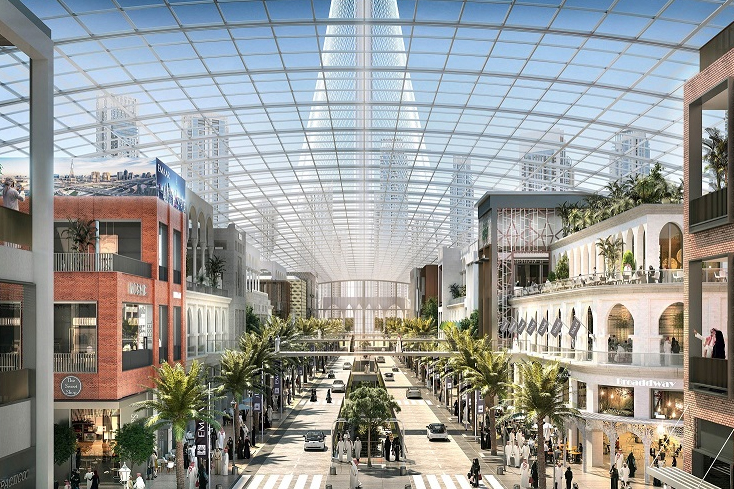 Integrating online and in-mall shopping, the development is designed for the new era of digital, connected and tech-savvy customers and setting a benchmark for retail experiences in the 21st century.
Dubai Square was revealed recently at an exclusive retailers event that offered a fully-immersive experience for the participants.
The new retail destination is set in the heart of Dubai Creek Harbour, the 6 square kilometre mega-development only 10 minutes from the Dubai International Airport and the iconic Burj Khalifa by Emaar, as well as set by the historic Dubai Creek. Adjacent to Dubai Creek Tower, the astonishing new icon, Dubai Square – in its totality – represents a 2.6-million square metre (about 30 million square feet) retail, hospitality and residential district for the future.
Abdulla Al Habbai, Chairman of Dubai Holding, said, "Dubai Square is our new retail and leisure destination, and with this we aim to actually redefine the shopping experience by introducing a variety of innovative concepts. This is our latest endeavour to bring the best to Dubai, as part of Dubai Holding's promise, 'for the good of tomorrow'."
Dubai Square is spread across three levels, each presenting a unique set of experiences to the customer. Skylights, glazed roofs and shopfront windows will be part of the sensory visitor experience. Parks, patches of green and lush landscaping will provide a natural balance to state-of-the-art facilities. Special LED technology is set to drive impactful and interactive backdrops and delight customers throughout their journey.
"Dubai Square disrupts the traditional mall and retail experience," said Mohamed Alabbar, Chairman, Emaar Properties.
"With Dubai Square, we are delivering a new destination experience that will bring incredible value to our retail partners. Dubai Square is where technology meets the human touch, and retail meets next-generation entertainment. With its omnichannel offering, it not only drives in-store retail but also the online engagement of brands with customers."
Dubai Square is designed with the modern consumer in mind. Offering experiences that go well beyond traditional shopping, it offers an assortment of spaces to socialise in an authentic city atmosphere, and raise the bar on 'quality time'.
Technological innovation permeates every aspect of Dubai Square's function. Championing 'omnichannel retailing', it will offer customers a seamless blend of shopping via desktop, mobile or at a retail store. The physical and the digital at Dubai Square co-exist in harmony, with stores acting as showrooms for their online presences.
Dubai Square will feature various digital conveniences such as include custom-designed mobile apps, quick checkout solutions, search and barcode scanning applications, radio-frequency identification technology, mobile payments and click-and-collect services.
It will also be a playground for tech brands around the world. It will also be home to innovators in the automotive, computing, sustainable technologies, 3D printing, drones, artificial intelligence and other emerging industries.
In addition, it will offer a variety of immersive experiences will elevate the fashion offering at Dubai Square with special VIP dressing rooms, smart fitting rooms with interactive mirrors, curated private fashion collections, personalised AI recommendations, 3D printed clothing and accessories, fashion museums and more.
Dubai Square's entertainment repertoire will delight and astound each visitor. A futuristic entertainment arena with 3-D projection mapping, theatrical sound and lighting, high wire rigging and other cutting-edge attributes is at the heart of the offering.
Visitors to Dubai Square can lose themselves in a choice of global gastronomy. Whether it's nouvelle cuisine they crave, fusion, vegan, Peruvian, French-Vietnamese or a new dining concept, they will be impressed by the high-quality of service in cutting-edge facilities.
Specially designed apps for ordering food and beverage on the premises will minimise queuing and long wait-times, while others are set to provide personalised dining recommendations and 3D-printed food delicacies.
When completed, Dubai Creek Harbour will be home to over 200,000 people, and be a thriving economy that drives the tourism, retail and hospitality sectors of the city.