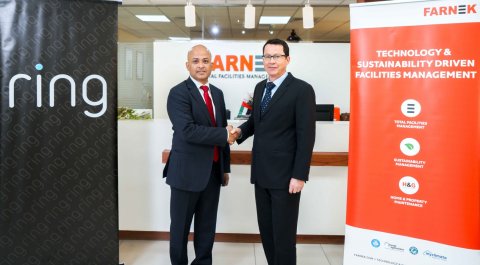 Smart home security firm Ring has announced that it is collaborating with Hitches and Glitches (H&G), a Dubai-based, technology-led home maintenance company, which is part of the Farnek Group.
As part of the collaboration, H&G will retail Ring products via its online store and install Ring's smart home security products in residential communities in the UAE, providing effective, easy-to-use, affordable solutions for security-conscious homeowners and tenants.
"People in the Middle East are taking home security into their own hands to help protect and secure their family and property. Ring's mission is simple: to reduce crime in neighbourhoods. Partnering with local service providers like H&G helps us expand our reach and makes Ring's home security solutions more readily available to homeowners in the UAE," said Mohammad Meraj Hoda, vice president, Business Development – Middle East at Ring.
Earlier this year, Ring was reportedly acquired by global e-commerce firm Amazon.com in a $1 billion deal.
The Ring products that H&G will retail and install include the Floodlight Cam, the first motion-activated security camera with two-way audio, HD video, built-in floodlights and a siren; the Spotlight Cam Battery, a long-lasting battery-powered HD camera with two-way audio and a siren; the Spotlight Cam Wired with two-way talk and a siren solution; and the award-winning Ring Video Doorbell 2 that helps you communicate with visitors from anywhere.
"Adding these state-of-the-art smart home security gadgets, to our existing and increasing portfolio of smart home solutions, significantly broadens our overall offering. We can create a bouquet of products that not only cover security but sustainability and lifestyle too. The ability to buy online with the added convenience of installation, provides a seamless experience, which we believe is a highly attractive market proposition," said Lukas Eigenmann, COO, H&G.
H&G will initially offer Ring's security solutions to its database of over 10,000 homeowners and tenants across the UAE, initially targeting those in residential areas, particularly villas, and those with freehold and leasehold properties in Abu Dhabi and Dubai.