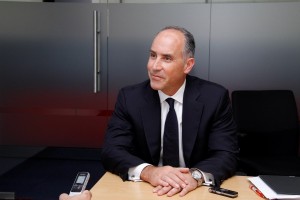 On his first visit to the UAE, Regan McGrath, Global Channel Sales and Marketing Manager, Brocade, tells us that he would rather work with a few valuable partners than with scores of worthless ones.
How are you finding your first visit to the UAE?
The biggest eye-opener for me in the region is how readily this region adopts new technology. It's very exciting for us to see the appetite for new and innovative technologies. I think this region distinguishes itself for having a very strong appetite for not just the legacy, old way of doing things, and that lends itself very much to what we're presenting to the marketplace, and that's an alternative way to build network architectures for future requirements. I think it's a great fit for us, and it's beyond the obvious growth opportunities with a region like this that's clearly investing disproportionately around infrastructure – not just in Dubai but across the region.
How much of Brocade's business is done through the channel?
We have two distinct areas of Brocade. One is our SAN storage networking business, and the other is our Ethernet networking business. The storage networking business is largely an OEM play that goes through the channel, so we sell to EMC, we sell to HP, we sell to IBM, sell to Hitachi, and then they our products and resell to their channel. With that, it's a very high proportion that goes through the channel. For us, the channel is an OEM on that side of the business.
On the Ethernet side of the business, right now, 75 percent of our worldwide revenue goes through the channel. And where we don't go through the channel, we've clearly communicated – it's largely with our large service provider customers. In the Middle East, it's all channel – we don't sell direct. It's really only in the United States, where we've got a few legacy large service provider customers, and everybody sells to those customers direct.
What's your global channel strategy for the year?
When we talk to the channel, we think of our Ethernet business. I think there are three overriding strategies. One is to clearly articulate our differentiation in our global market model. The fact that we have a very predictable model in going through the channel, and we don't flip-flop – saying we'll go direct here or through the channel here – makes it a very clear strategy. Communicating that to our partners is critical to our success.
Secondly, the strategy has really been around building and accentuating the tools that we have to make it easier to do business with Brocade. For example, we've invested in a brand new partner relationship management system, which is very cool. It makes it much easier, and it's a one-stop portal for all things channel. It's got things like a new, low-end, easy-to-use configurator, so you don't have to be an expert on Brocade to configure the tools. And then we've got several different marketing initiatives and marketing tools that are accessible at no charge – or at a very low charge – for our channel partners to help them market our solutions.
Lastly, we're really articulating our technology differentiation to the marketplace. We've got some very, very unique offerings that are very interesting for our channel partners, as they're under more pressure to provide innovative solutions and take their customers to the next level to accommodate for all the emerging dynamics like cloud, virtualisation, video and mobility.
How does Brocade enable partners to navigate new technologies such as cloud, virtualisation and data centre consolidation?
There definitely has to be an investment from channel partners to want to learn your value proposition. That's the same, no matter who it is. I think the difference between us and others is that we're not looking to go find 1,000 partners; we're looking for a few very, very strong partners. You see a lot of our competitors dilute themselves quite a bit with over-distributing their products, and that plans havoc in a lot of different areas – not just the profitability of the partners, but the capabilities of the partners, as well.
We'll help them on an ongoing basis. And what a lot of vendors lose sight of is that the partners can add value in many different stages of the sales cycle. There's value if a partner just introduces us to their customer; there's value if they do nothing else in the sales cycle other than plug something in and we do all the selling; there's value in providing credit to the partners; there's value in having product available. There are several different areas of value in the sales cycle, and you don't necessarily need a partner to add 100 percent of value in every sales cycle. Sometimes, they're going to do something completely independently, and other times, they may just provide a very key 10 percent, and we might do the rest of the work on a larger opportunity. And it's everything in between.
What kinds of opportunities do you see in emerging technologies?
I think the biggest overriding opportunity is to make people's jobs easier. I don't care what kind of IT you're providing to them, if you can take complexity away, and can provide operational simplicity to their day-to-day lives, they're going to pay money for that. You're providing a value that addresses the number-one challenge for people right now.
IT operators are overwhelmed with all the things coming at them. There's virtualisation, there's cloud, and then how do you address the ongoing issue with video and social networking in the utilisation of your architecture and certainly your network? There are a million different things coming at them. And, by the way, their budgets aren't going up. The budgets are flat, and they're losing people, quite frankly. To me, the opportunity that we have – not unlike a lot of people – is in making those jobs easier.
How important is training and certification to Brocade?                                
It's very important. It's actually the mechanism, the only gate, to moving up the tiers of partnership. Some people require you to have a certain revenue trend, but for us, it's all about training and certification. Going from Select, which is our entry-level, to Premier to Elite is all about the number of people you have certified in your organisation.
I would also say that, from a channel partner's perspective, their customers are looking for them to be technically competent as well. And as difficult as it is for IT professionals to keep up, channel partners also are being forced to focus on less and less product lines, because they have to experts – they can't just casually understand something, or else they're not going to be providing the value that their customers expect.
What impact will the cloud have on a channel that is focused on network solutions?
The cloud impacts everything. You're going to see it change the way people go to market, the way people build products, the way people service their customers, and the way customers think about where their spend is going. It is the most prevalent IT trend, I think, in 20 years. I don't know that there's anything in the history of IT, other than the Internet, that has had as profound an effect on everything. I don't know where the cloud doesn't have an impact.
What kind of growth do you want to see out of the Middle East this year?
We have expanded our Middle East team by at least 30 percent over the past year. In terms of the numbers, I'm not going to give you exact numbers, but in terms of percentages, we are looking to push our Ethernet Fabric over 10 to 15 percent. And that falls in line with the global targets.