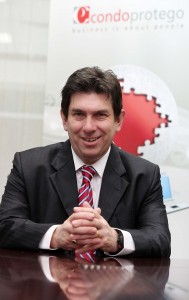 Good customer service needs vision, people power and a super-sized portion of empathy, says Condo Protego CEO Andrew Calthorpe.
With noses to the grindstone and eyes on the bottom line, it is easy for the region's IT players to end up in positions with plenty of customer service blind spots.
Many would no doubt bristle at the accusation but, judging by the conversations I've been having of late, the lack of true, value-added customer service is still more elusive than it should be.
In the VAR community, bad service can come at any point in a project's lifecycle. Yet some businesses may not even realise they are getting a less-than-satisfactory deal due to a history of low expectation.
Suffice to say, a fair few have been operationally hamstrung because a VAR has cut corners with one-size-fits-all solutions. Snappy sales talk can make anything fly at the time, but increasingly that is not going to cut it in the long run.
At Condo Protego, we conduct a detailed customer feedback exercise after every completed project. Over the past 12 months, 100 percent of our clients stated that design-led data storage and protection strategies result in tangible business value. The assertion was unanimous across such diverse worlds as banking, insurance, education, energy, manufacturing, and government.
While this is, of course, a nice vindication of how we have always done business, it is also vivid and instructive snapshot of how today's business leaders think.
Decision-makers are no longer IT novices. They are discerning experts, they want to be involved in strategy and they want value for money.
They will certainly not stand for a perfunctory gameplan and a hope-for-the-best mentality. Where once there may have been a general sense of detachment, there is now a surging demand for something far more immersive and vital.
More than ever before, there is a market hungry for the VARs that can move beyond just selling products to also craft multi-faceted strategies that have the potential to extend well into the future.
This will call for unprecedented levels of project-specific collaboration. Clients are no longer happy with generalists; they want specialist input. This means assembling and deploying tightly configured teams fit for purpose at any given moment.
The industry is demanding a new breed of customer service that isn't predicated on empty promises, but is instead entirely driven by a desire to identify and understand critical business problems.
Key to enduring success here is to treat every project as a continually evolving entity that requires huge reserves of both human and technological care.
One of the recurring gripes I've heard when pitching to new clients – and in casual conversations with industry experts – is the distinct lack of adequate post-implementation support.
Just because the deal is done, dusted and up and running, doesn't mean it is all over. VARs need to stop treating projects in a hit-and-run fashion, and clients need to be actively engaged.
On every-level, business is about people. As business demands become increasingly complex, it is surely the open-minded and cooperative VARs that will win the day.