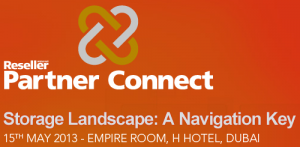 Reseller Middle East's "Partner Connect" series of events returns next week with a focus on the opportunities to be found in the burgeoning storage market.
The upcoming Partner Connect conference will be held on May 15, in the Empire Room at the H Hotel, Dubai.
Storage will be the order of the day, as enterprises of all times look to not only buy more storage, but also streamline the effectiveness with which they manage data. This presents huge opportunities for the channel, so the event will feature talks on how partners can glean sustainable business out of the thriving market.
To attend the event, simply fill out this registration form, and a member of our team will send you all the details. The full agenda can be found here.
Growth in the storage market is on an upward spiral thanks to the explosive growth in data volumes. With the plethora of storage choices that can be effectively and affordably deployed, most companies are ramping up their infrastructure with new technologies such as de-duplication, thin provisioning and automated tiering.
Though growth and data retention requirements are forcing enterprises to buy more storage, many of them are looking to reduce the complexity and long-term costs with a comprehensive storage strategy.
For companies, especially SMBs, looking to determine how the storage infrastructure will be managed, external consultants and VARs are extremely important, as they can offer insight on new technologies, manage vendor relationships and make recommendations on buying decisions.
In a bid to understand how partners and vendors can work together to help enterprises build a flexible, robust storage infrastructure that provides end-to-end management and security of data, Reseller Middle East is all set to host the third edition of its "Partner Connect" series of events.
Under this platform, we are rallying together the region's IT community to discuss the opportunities in this fast growing market and the latest technology trends in an informal setting.