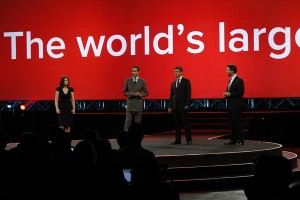 While Infor describes itself as the world's biggest start-up, its new partner network shows that the vendor's channel business is beginning to grow up. Tom Paye reports back from the United States on what the new network means for prospective partners.
Because it describes itself as "the world's biggest start-up", Infor could be forgiven for not having the most advanced channel in the world. That said, since the launch of its Infor Partner Network two years ago, the vendor has come on leaps and bounds in terms of striking up – and keeping – strong partnerships with distributors and resellers.
The problem with Infor's channel before, according to Gerard Frey, Vice President, Infor Partner Network, was that, because the vendor had snapped up so many companies through acquisitions, the channel was a little disparate, and had many partners wondering where they stood.
"Through all the acquisitions that Infor has made over the last 10 years, we've had 30 or 40 companies that formed a channel," Frey said at Inforum 2013, Infor's annual customer conference held in the United States.
"We've recently rebuilt a programme around it called the Infor Partner Network for channel partners. And with that, we've got all of our partners on the same contract, the same rules of engagement, and the same segmentation model."
Frey heads up the Infor Partner Network, and so is, in effect, Infor's top channel executive. He also saw the transition from Infor's old way of doings things to the creation of the new partner network, which includes a revamped partner portal, from which resellers can access pretty much everything they need to sell Infor's products.
And judging by the number of new products that Infor has released this year, partners will need that extra help just to get their heads around the new portfolio. At Inforum 2013, the vendor made more than four big announcements, and punctuated these with a handful of smaller ones. From the new Sky Vault cloud service to the 10x Suite that can be adapted to dozens of micro-verticals, partners will need to spend some serious time getting to grips with Infor's new technologies.
That's why the firm has put much more emphasis on training and certification. Pam Murphy, the firm's COO, said during her Inforum keynote that customers had asked for better training on Infor's products, but what about the vendor's partners? What kind of help can they expect in terms of getting to know the products?
"I can tell you from an enablement standpoint, you've always got to stay ahead of it," said Frey. "We've attacked it from a couple of different perspectives. We will do bootcamps and get in front of them, we'll also do roadshows, of course.
"We really just use multiple facets, so I have a person on my team that's responsible for global partner enablement, and I would say enablement would be everything that a partner needs to get successful – from contract signature to closing the deal, and going beyond that and implementing that deal. Enablement is constant, ongoing, and keeping them fresh."
Indeed, Frey claimed that, through the Infor Partner Network, partners are given the same access to material as the vendor's own sales teams.
"We went out of our way to give partners access to everything our direct sales get," he said. "When we say we have a partner portal, they're actually getting access to our sales portal. We see them as an extension, for sure, for our sales force. And we make sure they get all the same news, all the same updates, and the sales tools."
This strategy makes sense for a company that sees far more direct sales than channel sales. Frey said that the company will make more use of the channel in areas where it doesn't make sense to have a direct presence, in which case, he wants the resellers to become representatives of Infor. And in areas where Infor does have a direct presence, he still wants the channel community to complement the direct sales team.
"In some cases, they co-exist. We have places and zones where they can sell to. At other times, Infor is the channel, so it depends," he said.
This situation may be a cause for concern among some partners, who might assume that, with its large direct sales network, Infor will have no qualms about poaching sales after a partner has done all of the legwork. However, Frey said that the new partner portal ensures transparency in who goes after which targets, meaning that everyone knows where they stand from the beginning.
"One of the things we've done, more so in the past couple of years, is really put in rules of engagement and segmentation models, so it's agreed upon by direct sales and partners, and we monitor that," Frey said.
"We do segmentation by revenue with companies. So there is a clear line of demarcation, so our partners know where they can sell to, where we sell, and there's a co-exist zone, so whoever registers the lead there first, they go take it. And then partners can engage sales to help them with deals and vice versa, in cases where that may make sense. There's been a lot more transparency and visibility into that and we post that on the partner portal, so a partner knows, with any product, in any country, exactly where they can sell. It takes away the mystery of conflict, and it's helped a lot."
In the Middle East, this stuff matter because, according to Frey, around 20 to 25 percent of Infor's EMEA channel is located in the Middle East. And when a specific region makes up almost a quarter of your channel business, you're going to ensure that your partners there are happy.
"The Middle East represents one of the high-growth markets for us," Frey said. "We've got a global recruiting strategy, which reports up to me. What we do is we work with the channel leaders globally on what are their targets for recruiting in the high-growth markets. The Middle East has always been an area that would see heavy investment for us, from recruiting as well as investing back and enablement."
As an example, Frey pointed out that Infor had recently held a sales and pre-sales bootcamp in Dubai, where around 40 to 50 partners gathered to learn about the firm's new product portfolio.
"Although it's really designed for brand new partners, we have a lot of partners who just want to get reacquainted with the Infor story," Frey said of the bootcamp.
With Infor's new range of products, Frey hopes to attract even more partners in the coming months, particularly as the vendor goes after new industries with its ERP solutions. And judging by the excitement among customers at Inforum 2013, it would seem like a good idea for resellers to jump on board. The world's biggest start-up just got a little bigger.