Bilal Saleem, Channel Partner Sales Manager-MEA at HID Global, on the company's partner program and benefits.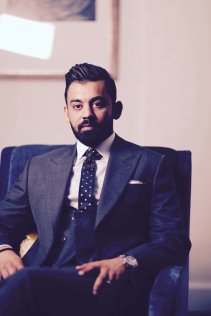 What is the importance of a partner programme? 
Partner programmes generate mutual benefits and growth to manufacturer vendors and distribution channels. Through the channel, manufacturers are able to obtain specific insight into current challenges customers are facing, so they can maintain a roadmap of new product offerings and solutions that are continuously improving upon their current ones. In turn, manufacturers support channel partners with all the relevant marketing and sales enablement resources needed to help move the needle in the sales funnel—from prospecting to qualification and closing the deal. As a worldwide leader in trusted identity solutions, HID Global strives to maintain a close relationship with our channel partners. The HID Advantage Partner Program provides the foundation that supports the success of our partners across the six business areas that define HID Global: Physical Access Control, Secure Issuance, Identity & Access Management, Citizen ID, Extended Access Technologies, and Identification Technologies. 
 Please give us a brief about your channel program and outline the key features of the program. 
HID's Global Advantage Partner Program is not only designed to foster mutually beneficial relationships with our partners, it allows them to benefit from loyalty incentive programs, obtain continuing product education and have the latest information about HID's go-to-market efforts and campaigns. 
The HID Advantage Partner Program is one unified program designed to be more than a sales reward—a true partnership—serving two categories: Resell and Technology.  
RESELL PARTNERS
Resell Partners are Integrators, OEMs, Distributors, and Resellers that sell, market, and deliver HID Global products and solutions. Resell Partners earn Silver, Gold or Platinum status each year based on objective, systematic criteria, including total revenue across all HID Global products, product mix, product competency, technology integration, and planning and coordination. Ascending to a higher program tier enables resell partners to access higher-value benefits, helping them increase the value they deliver to customers.  
TECHNOLOGY PARTNERS
Technology Partners are Managed Service Providers (MSPs), Sales Agents, Systems Integrators and Alliance Partners that have their own products and incorporate or use HID Global products and solutions. Alliance Partnership benefits vary and are by invitation only. Technology partners do not have status tiers but must have a program agreement, product competency, technology integration, and planning and coordination each year. Resell   
What are the benefits of the HID Advantage Partner Program? From a sales enablement standpoint, we can help our partners learn, grow and increase revenue by offering the following benefits:  
Partner Portal Community:

engage with HID Global and other partners with access to exclusive partner content such as presentations, whitepapers and sales enablement tools. 

 

HID Academy:

gain knowledge and increase credibility with our comprehensive training curriculum, available in a virtual classroom environment featuring how-to videos, and other courses for role-based knowledge and skills. Learning tracks are available in both sales and technical areas of interest. 

 

Product Early Access & Beta Software Participation:

learn and interact with our new product offerings

 

 

 
Marketing Programs and Tools:

take advantage of HID Global's marketing programs and tools to reach out to new prospects and leads, nurture existing customers prospects, and generate demand. 

 

Market Development Fund (MDF)

:

increase and improve your marketing objectives with a shared program, including joint planning and campaigns. Only available to Gold and Plantinum partners.

Use of the HID Advantage Partner Program Logo

:

advertise your HID Global expertise.

Customer Leads*:

Discover interested prospects directly from HID Global.

Partner Locator Tool

:

new customers will find your company easily with a custom entry in our exclusive partner directory on our website.

Joint Marketing Planning

:

we work with you to develop  your marketing plan combining different tactics to reach out and convert prospects.  

 

Campaign-

in-a-box resources:

access the latest co-brandable marketing assets, enabling you to create your own marketing campaigns for HID Global's products and solutions.

 
Additionally, your your sales and profitability can be improved with the following incentives: 
Opportunity/Deal Registration:

help secure prospects and close deals with access to resources and support before and during the sales process. 

 
Joint Business Planning:

we work with you to develop a go-to-market strategy. Only available to Gold and Platinum partners.

 

Channel Incentives:

receive exclusive rebates, promotions and spiffs to pass along to your customers and increase sales.

 
How do you ensure channel partners flourish in a highly competitive market? 
We strive to earn our partners' trust and ongoing loyalty by fostering a community that is transparent and scalable. Our HID Advantage Partner Program is thoughtfully designed to recognize and reward partner expertise in solving customers' most pressing security identity challenges. To enable partner success, we offer a best-in-class training program, HID Academy, to provide the knowledge and credibility needed to deploy our solutions with confidence, high profitability, and various sales incentives. 
How can a new partner enroll to the Advantage Partner Program? 
The Advantage Partner Program is designed to be as seamless and streamlined as possible, both in application and execution. A completed Program Assessment is needed to join the Program. This is an automated process that objectively determines a Reseller Partner's single tier designation (Silver, Gold, Platinum). It is conducted at the HID Global relationship level, which combines all global business segment revenue (except for GovID). It is based on total revenue across all HID products, product mix revenue, and technical competency (Academy Learning Paths), technology integration, and planning/coordination. 
To learn more about the Advantage Partner Program and how to join our program today, visit the HID website at https://www.hidglobal.com/partners/become-a-partner