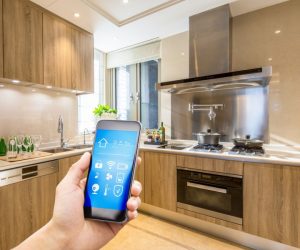 The advent of Internet of Things technology has opened up limitless possibilities to connect any device or object to the Internet, making our daily mundane chores easier and faster to achieve.
When we look at the consumer appliance segment, smart televisions, refrigerators and air conditioners are not novel anymore from a manufacturer's point of view. While some might own a smart TV or a basic smart refrigerator, it is still a long-way off before we see a complete smart home, or for that matter, even complete connected kitchens.
According to a 2016 Deloitte report, 48 percent of people agree connected products are too expensive while 26 percent believe the technology still needs to evolve further.
The report said that the living room was the first part of the home to become connected, and sales of smart TVs and wireless speakers continue to increase in 2016. The next stage of growth is in the area of home monitoring and security, while a connected kitchen will come further down the line.
Making connected products affordable and mainstream while also educating customers on the complete potential of a smart appliance are the two steps that industry giants need to think of.
In line with the two steps, senior executives from Whirlpool visited UAE to strengthen regional business and reinforce its customer relationships.
Amid reports of Whirlpool Corporation conducting layoffs to reduce global costs by $150 million, the company is doubling down its focus on the Middle East and Africa (MEA) region.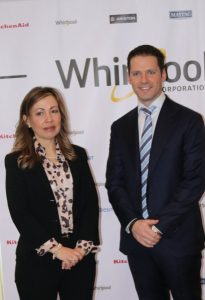 Without revealing how the reduction of jobs and plans to cut cost globally would impact the region, Esther Berrozpe Galindo, president, Whirlpool EMEA and EVP, Whirlpool Corporation, shared that going forward, the firm's most strategic initiative is to redefine the firm's products in the consumer appliance segment.
The firm's renewed focus is on incorporating innovation and latest technology within its products and educating consumers to look at an appliance as more than just a 'white box'.
She said, "We are working on enabling the journey of a 'white box' to a smart and intelligent appliance by building capabilities within it that will allow to communicate with consumers. This is going to change the world. We are viewing an appliance as a world of possibilities."
In line with this strategy, last month, at CES 2018, the company had announced that some of its smart appliances now support Google Assistant and Amazon Alexa, allowing users to use voice commands from any part of the house to get their chores done. It had also announced that customers can remotely communicate with connected appliances through the Apple Watch.
Competing with global leaders, the likes of LG and Samsung, Whirlpool is stepping out of its home turf to ensure it doesn't miss out on the buzz around Internet of Things and other smart technologies. While it has boasted smart product line-ups under several of its brands for a few years, the firm is now hoping to truly optimise the opportunities in the connected era.
Norbert Schmidt, vice president, Market Operations and Product & Brand Marketing, EMEA, Whirlpool Corporation, said, "Our strengths have been making home appliances for more than 100 years. While we might be the best in the industry in terms of making the hardware, the area where we are learning and continuing to build our capabilities is in the connectivity space."
He added that for a long time the company's innovation was around the physical appliance. However, that is changing now.
In 2017, Whirlpool had acquired a recipe site and app called Yummly, in an attempt to push its drive for the smart kitchen of the future. With this deal, the company was able to enhance its Whirlpool Smart Kitchen Suite app and offer customers features such as guided cooking.
"Today," Schmidt added, "it is all about the experience you create through mobile devices. We need to ensure that customers are engaged and at the same time having fun while doing their chores at home."