CNME March 2020
Kaspersky's Amir Kanaan outlines how its security solutions can protect smart cities
Women in tech: Women in Tech Dubai community
CNME talks to some of the best and brightest women in ICT to find out more about how they've reached success in this industry.
Transforming taxes
Chandan Vashista, SVP & BU Leader - Public Sector at Invenio, discusses how the organisation has become the leader in SAP Tax and Revenue Management (TRM) for Public Sector implementations.
The 'go-to' partner for cloud transformation
Feras Al Jabi, SVP at Digital OKTA, ITQAN Global for Cloud & Digital Computing Systems explains how the company has established itself as the region's leading cloud services provider.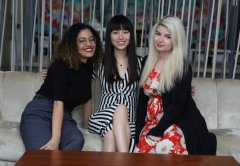 0
4321
CNME sat down with Ming Hu, Yasmine Fadel and Roxana Jula, the women behind Dubai's first Women in Tech community, …