Niranj Sangal, Group CEO at OMA Emirates Group explains how the UAE-based organisation has leveraged emerging technologies to become the market incumbent in the payment solutions sector.
Technology has caused a shift in the relationship between brands and customers. With a plethora of products and solutions to choose from, customer loyalty is now driven by experience, flexibility and functionality. Gartner's 2019 Customer Experience Management Survey revealed that more than two-thirds of CX leaders expect budget increases in 2020 to drive customer satisfaction.
Emerging technologies such as artificial intelligence, automation and robotics are raising customer expectations and pushing organisations to find new ways of pleasing their customers.
As a leading payment solutions provider, OMA Emirates Group is well aware of this change and has been driving innovation in the market by leveraging these new technologies. The organisation's charismatic Group CEO, Niranj Sangal said, "At OMA Emirates Group, AI and RPA have been on the books for the past three years. We have been focusing on chatbots specifically to further enhance user experience. Our idea of chatbots is a virtual assistant that will collect data and perform whichever function it has been set up to do – this could be paying bills on a specific date or setting up appointment reminders."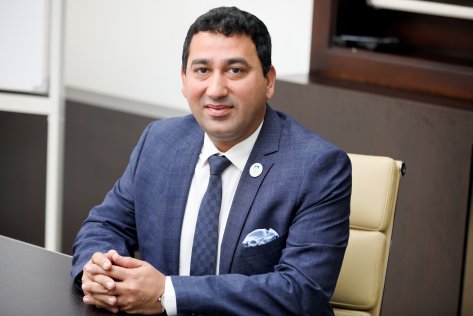 Sangal further explained that RPA is the perfect asset to automate repetitive tasks and allow people to concentrate on other responsibilities, increase productivity and enhance time management.
He continued, "We have incorporated both technologies into our solutions, especially in the area of card personalisation. Generally, the average time to receive a new card from a bank would be anywhere between three days to a week. With our solution, customers can predefine their card; submit a request over the phone or mobile application; set a location and time for pick- up and do so in a much shorter period of time. We've also worked on a similar concept on the POS side with a solution called NanoPay, a middleware which works on RPA technology."
OMA Emirates Group has also been focusing on offering its solutions as a service to meet the growing demands of customer for flexibility and cost-efficiency.
Sangal added, "We operate on a service base model – for example, a customer could pay 50 fils per month to have their own virtual assistant doing everything for them. This also helps us to leverage our solutions across multiple industries, from banking, to telco or retail. Today we are present in 16 countries and our customers can leverage our solutions as a service from wherever they are based, without having to worry about investments since we manage everything ourselves."
Sangal also discussed the challenges the retail sector is facing and how OMA Emirates Group is delivering new solutions to solve them. He further explained that 20 percent of the market relies on overbuying, a practice that is familiar to most consumers who tend to buy more goods than necessary. The payment solution provider is hoping to capitalise on this section of the market, while also improving retailers' margins and customer experience with its closed-loop payment scheme to connect consumers, retailers and banks.
Mobile payments also play a big part in OMA Emirates Group strategy to deliver a seamless digital experience to customers, said Sangal. Mobile payments transactions are in fact expected to reach 1.31 billion worldwide in the next three years, according to Statista – delivering a unified mobile payment experience has become a must to move forward in today's digital economy.
"Mobile payments are on the rise because of the convenience and flexibility they offer to consumers. At OMA Emirates Group, we continuously invest in this growing market by building multiple applications on our platform, while also white labelling them," said Sangal.
"We offer any type of payment service currently available, like Samsung Pay or Google Pay, as well as a 'wallet' that allows customers to access these solutions on a single platform. Since we run the same technology at our end, we are able to deliver these solutions within six weeks, drastically reducing time to market and ensuring perfect functionality."
Sangal also explained OMA Emirates group has moved away from a CapEx-based model to an OpEx-based one, eliminating expensive capital expenditures costs for its customers.
Discussing the organisations' plans for the next year, the Group CEO is confident that 2020 will be another successful year for OMA Emirates Group. Sangal said, "2019 was a better year than the previous one, and we anticipate this year to be even better. We have opened new offices in Pakistan, Malaysia and more recently Tanzania, and we hope to reach a total of 20 operations by the end of this year. We are also looking at expanding in Africa, Eastern Europe, and Asia, which is a huge market especially for fintech and crypto."
Sangal also explained the organisations will continue to invest 18 percent of their revenue on R&D in order to continue driving innovation and delivering new solutions that will help customers move forward in their digital transformation journey.