CNME October 2020
Azdan CEO Tariq Shahabedden, outlines how his company is equipping business with the technologies to thrive in the new digital …
Finastra
Wissam Khoury, Head of International, at Finastra, discloses the findings of its 'State of the Nation' report and examines what it means for the future of banking.
Women in Tech
Haidi Nossair, Client Solutions Group Lead, MERAT at Dell Technologies, discusses how there is still a long way to go to bridge the gender disparity gap that still exists in the IT industry.
NetApp/Ingram Micro
NetApp's Maya Zakhour and Ingram Micro's Sam Johny, discuss digital transformation, the demand for hybrid cloud services - and the relationship between the two entities.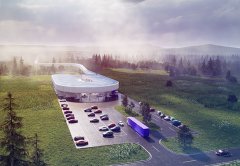 0
22110
DP World-backed Virgin Hyperloop has unveiled that the Hyperloop Certification Center (HCC) will be located in the US state of West Virginia.