Reseller ME October 2020
Nutanix's elevate program for the channel offers a unique emphasis on partner capabilities and competencies to sell and support the …
Enhancing cloud performance
Fadi Kanafani, managing director - Middle East at NetApp, points out that the time is right for a cloud-led, data-centric IT experience.
Crestan International announces distribution agreement with Centrify
Crestan International has announced its partnership with Centrify, a leading provider of identity-centric Privileged Access Management solutions in ME, to collaborate and provide modern, comprehensive Privileged Access Management solutions.
Joining hands for smarter collaboration
Spokespersons from Barco & Logitech explain how their recent partnership will help provide state-of the art remote working solutions and make it easy to work from anywhere in the world.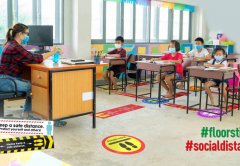 0
1190
Visual communications will be vital to helping school staff manage the situation safely and responsibly on a day-to-day basis.