Deputy Editor Giorgia Guantario spoke to Thomas Pietrzykowski, Managing Director, and Malte Geierhos, IT Director at ConSol MENA to find out how the German IT provider is leaving its mark in the region.
ConSol has firmly established itself as a global leader in terms of providing customised IT services and high-end IT consulting for over 30 years. However, in your opinion what ultimately differentiates you from its market competitors?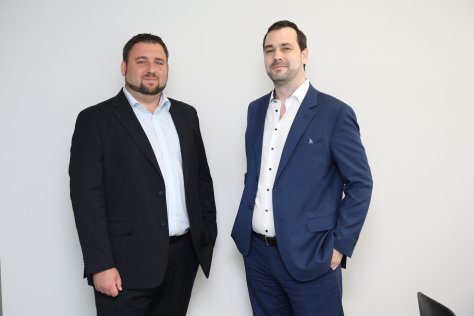 TP: One of the main differentiators for us is our ability to work with clients across the whole spectrum. We have a customer-first approach – a customer-centric methodology based on fully understanding the need of the client. While we have the ambition to work with large clients, we always focus on serving the needs of all type of organisation, no matter the size nor the location – we work hard to support them all.
MG: We are a German company, so quality is in our DNA. We are agile in our approach and this reflects in the many projects we have successfully delivered with different entities, including Dubai Government. We are always striving to improve – our position in the market is supporting this claim. We offer highly configurable end-to-end solutions from within the region. This enables customers to have something they haven't experienced before – most of our competitors outsource or provide solutions from other countries. We can deliver everything from here.
ConSol has been operating in the Middle East region since 2010. What sort of impact has the company made in the Gulf since its entry to the market?
MG: We are a top-tier Solution provider in Europe, where we work with both government and private sector. We stand for a broad range of technological expertise as well as non-proprietary consulting. Large enterprises, such as BMW for example, are benefiting from our solutions. The impact we have made here in a little less than ten years is quite impressive. Our customers are market leaders in their segments, and we believe we did our part in supporting them to achieve this. The company culture is deeply rooted in being excellency-driven – it's always quality over quantity for us. We hope to find many more customers in order to help them and guide them to achieve or maintain their leadership.
TP: I think our approach to open-source solutions is a gamechanger in the region – we make use of them wherever possible. Specifically, in the area of monitoring, creating frameworks, and supporting our customers in the use of DevOps tools, like OpenShift for example. Using these open-source technologies gives us a niche position in the market, and this is supported by the high-standard European expertise we can ensure for our clients.
We also have a long-lasting relationship with Red Hat. We believe that open-source products give the customers a level of trust and freedom of choice that in the long run gives better results than a proprietary software. Moreover, we are now in contact with companies from the UK and Germany to provide new solutions in fintech, specifically in the field of digital and open banking. We are extending our footprint and bringing our know-how in the market. We see ourselves as a company that has filled a gap in the region and have delivered some highly advanced projects like the DHA Smart Salem Platform – a unique platform using the latest technologies in the market.
Innovation appears to be in the DNA of the company and has been a fundamental component since its inception. What is your approach to innovation and what steps to you take to ensure ConSol is always ahead of the curve?
TP: Innovation for us starts with the recruiting process – the most important part for a company is having people with the right knowledge and right tools. Inline with this, we have set up the ConSol Academy, an internal training platform where employees can provide or request courses to keep up to date with the latest trends and technologies.
MG: We are actively supporting our open-source approach, so our employees can actually work on their own projects during working hours and publish them using our ConSol Lab Projects.
We also invest heavily in R&D – we believe this is the best way to stay ahead of the curve and to have customers come to us for support. For example, our enterprise suite process orchestration platform, CM6 allows us to recreate, optimise and automate any process or workflow using built-in machine learning and intelligent driven innovation.
What are your primary goals and objectives for the remainder of the year and looking ahead to 2020?
TP: Our goal for next year is to extend our partnerships in the region and to continue serving our clients with same quality we've always provided. We want to continue our organic growth based on fact-based decision-making. Regarding future partnerships in the region, we have some interesting ones in the pipeline, which we believe will have huge effects on all residents in Dubai and the UAE. We will also be focusing on working with financial institutions and fintech organisations to bring a new open banking/digital banking system to the market.