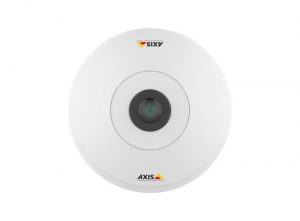 Axis has announced enhancements to its Zipstream compression technology to support the increased data streaming and storage demands of 360-degree panoramic cameras and 4K resolution.
According to the firm, Zipstream ensures that important forensic details of video footage are maintained, while minimising bandwidth and storage requirements by an average of 50 percent or more. Axis has also announced two new domes that include the enhanced Zipstream, offering 360-degree, high-resolution coverage, cost-effectively.
"Storage and bandwidth make a significant part of the total cost of a surveillance system. Axis developed Zipstream to address the specific needs of the security industry. That is, to minimize these requirements without losing forensic details", said Johan Paulsson, chief technology officer, Axis Communications. "We are happy and proud to announce that the enhancement of Zipstream now embraces both panoramic and ultra-high resolution cameras."
Axis also announced AXIS M3047-P and AXIS M3048-P Network Cameras, which take advantage of the enhanced Zipstream technology to deliver 360-degree coverage in a cost-effective way. They are compact fixed mini dome 'fisheye' cameras giving complete coverage to customers with more limited means, said the company.
AXIS M3047-P, with a 6-megapixel sensor, and AXIS M3048-P, with a 12-megapixel sensor, both deliver full frame rate video and decent image quality including overall sharpness and light sensitivity.
"Combining these new 360-degree domes with the enhanced Zipstream technology really does deliver a cost-effective solution for customers, providing comprehensive coverage while ensuring the detail of that panoramic view is not lost when streaming and storing data," added Petra Bennermark, global product manager, Axis Communications.