Pure Storage has announced the industry's first comprehensive AI-Ready Infrastructure, AIRI, powered by NVIDIA.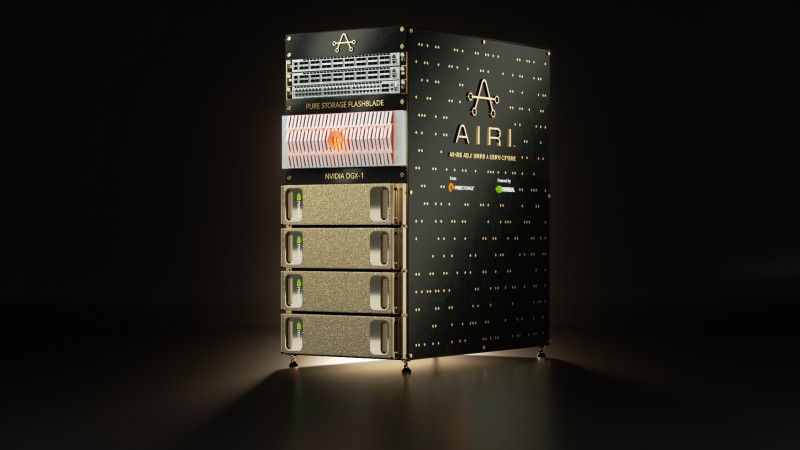 Architected by Pure Storage and NVIDIA, AIRI is purpose-built to enable data architects, scientists and business leaders to extend the power of the NVIDIA DGX-1 and operationalise AI-at-scale for every enterprise. With AIRI, cloud, enterprise and government organisations can accelerate time-to-insight and bring new, impactful innovations to humanity, faster.
AIRI enables organisations to turn data into innovation at an unprecedented pace. AI represents an opportunity for enterprises to innovate not only at a product level, but within day-to-day operations as they lead their industries through periods of tremendous change. According to Gartner, 80 percent of enterprises will deploy AI by 2020. AIRI provides a simple, yet powerful, architecture that empowers organisations with the data-centric infrastructure needed to harness the true power of AI.
"AI has fantastic potential for aiding humanity," said Charles Giancarlo, CEO, Pure Storage. "It has the capacity to significantly improve the quality of all of our lives. Safer autonomous vehicles will save tens of thousands of lives and make us more efficient. AI-driven advances in life sciences have made preventative healthcare a current reality rather than a vague future possibility. AI will provide highly personalised experiences for the consumer, while keeping online communities safer. AIRI will accelerate AI research, enabling innovators to more rapidly make advances to create a better world with data."
Engineered as a fully integrated software and hardware solution by Pure Storage and NVIDIA, AIRI shatters infrastructure complexities that hold organisations back from deploying AI-at-scale. AIRI is powered by Pure Storage FlashBladeTM, the industry's first storage platform architected for modern analytics and AI, and four NVIDIA DGX-1 supercomputers, delivering four petaFLOPS of performance with NVIDIA Tesla V100 GPUs. These systems are interconnected with Arista 100GbE switches, supporting GPUDirect RDMA for maximum distributed training performance. AIRI is supported by the NVIDIA GPU Cloud deep learning stack and Pure Storage AIRI Scaling Toolkit, enabling data scientists to jumpstart their AI initiatives in hours, not weeks or months.
AIRI, according to Pure Storage, is designed to enable data architects and scientists to deliver time-to-insight at scale. Every organisation generates and stores troves of data. Now more than ever, innovators require additional insight from that information to make their businesses smarter.
Jérôme Bélan, EMEA CEO at PNY Technologies, said, "FlashBlade is indisputably the best in class storage solution designed for AI workflows and only six months into our partnership with Pure Storage, we are thrilled to see AIRI empowering our partner network with a real, turnkey solution to tackle the toughest AI problem in the most reliable way. Being a close partner of NVIDIA for more than a decade, we foresaw the potential of a combined FlashBlade together with DGX-1. Today we are pleased to witness the result of the NVIDIA technical team collaborating with Pure Storage to fine tune a complete system approach. Leveraging GPUDirect RDMA provides an incredibly powerful solution to speed up deployments at scale and enable AI problem solving approaches to be dramatically simplified."