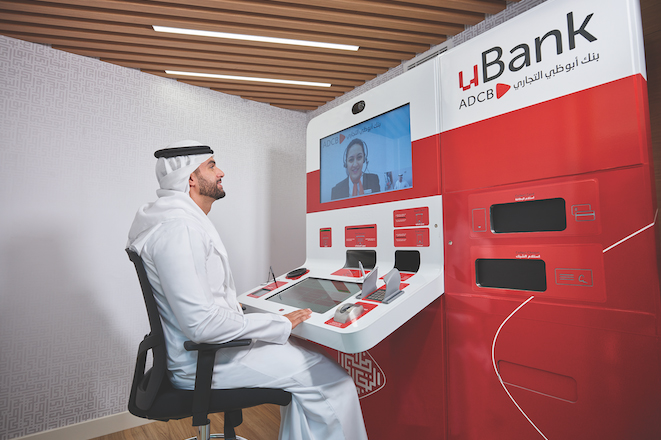 Abu Dhabi Commercial Bank has completed the implementation of smart banking kiosks at a newly opened digital banking centre in Abu Dhabi's Yas Mall.
The virtual teller machines, delivered in partnership with Fujitsu and banking and retail technology firm Emerico, are at the core of the uBank experience launched by ADCB.
Through the touch-screen smart kiosks, ADCB's customers can instantly open an account, obtain or replace credit and debit cards, and print checks and bank statements.
Self-service transactions are secured with biometric authentication technology and a digital signature system, while customers can also request on-demand support from a banking assistant via a live video connection.
Full customer integration has been enabled through the UAE EIDA (Emirates Identitiy Authority) gate for accessing information with a scan of the customer's ID.
Arup Mukhopadhyay, head of the consumer banking group at ADCB, said, "uBank is the smart new way to bank, putting our customers at the heart of our service. Customers can now perform several on-the-spot transactions. This enhances the quality and speed of services and as a new 'anytime, anywhere, anyhow' solution, it will fit in perfectly with our customers' lifestyles. We are very happy with Fujitsu and Emerico's smart banking solution as it is fully secured, digitally driven and highly efficient."
Following the successful first implementation, ADCB is planning to launch two more uBank centres this year in Abu Dhabi and Dubai.