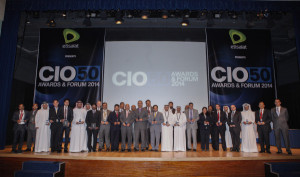 The deadline for CPI Media Group's CIO 100 Awards 2015 nominations is fast approaching, with Thursday 15th January the last day that Middle Eastern IT leaders can put themselves forward for the prestigious accolade.
The ceremony will take place on Monday 26th January at Jumeirah Beach Hotel, from 10am-2pm.
The inaugural CIO 100 Awards celebrates 100 organisations and their IT figureheads that are using technology in innovative ways to deliver business value.
This can be through creating competitive advantage, optimising business processes, enabling growth or improving customer relationships.
To be selected, applicants must show not only that they have executed a project well but also that they have done so in uncommon, innovative ways: pioneering a new technology, applying a familiar technology to a new purpose, setting the bar higher for their competitors.
The extent to which an organisation used IT in a new way or enabled new ways of doing business, whether internally or externally, as well as having a measurable impact – backed up by supporting data – will be what makes the difference.
CIO 100 honourees will be chosen by the CNME editorial team based on information submitted in online applications.
Entrants are encouraged to include any information about their project or initiative that they would like the judges to consider in their answers to the questions on the application.
Each entry will be judged based on how it compares with all other entries submitted. Honourees will not be ranked.
Here's your chance to show your peers the technology innovations that have paved the way to greater success for your organisation.
Please send your nomination by email to cio100@cpimediagroup.com
Applications must be submitted in the application you can download here.