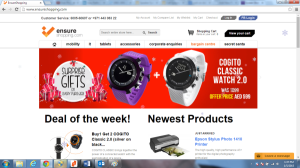 Dubai-based IT & mobility store www.ensureshopping.com is now available to customers in the Middle East.
Ensure Shopping provides the concept of a 'bargain centre' where a customer quotes their own price for a specific product, and then a customer service representative contacts them on approval of their quoted price.
Shoppers have the option of quoting a discount of up to 50 percent on the listed price, and then site managers oversee whether or not the product can be given away at the quoted discount.
"The Middle East has a high Internet penetration and some statistics hint at over 90 percent internet penetration in UAE," said Rahul Nanda, General Manager- ensureshopping.com. "With more consumers shopping online and with a number of online shopping options, consumers have started looking for differentiated experiences online. For a selected range of products on ensureshopping.com, consumers can give their price and we try to match it," Nanda adds. "This helps us understand the perceived value of products listed on the site which could help us in future pricing decisions. We believe we are the first portal in Middle East to offer the concept of bargaining online."
Corporate customers can also log on to www.ensureshopping.com/corporate and avail specialised discounts for their requirements.
Once they highlight the kind of products they are looking for, the website assists them with price packages and express delivery options.
For customers who do not use Credit and Debit cards, the portal offers a cash on delivery option.