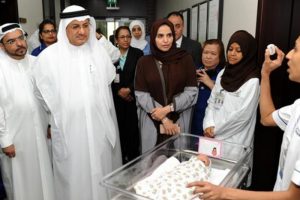 The Dubai Health Authority (DHA) has announced that it will use smart tags to protect newborn babies at hospitals across the emirate.
Hospitals will put electronic tags on ankles of babies, which are designed to alert parents and hospital staff if someone attempts to move the baby without authorisation.
They will also use technology that will help monitor oxygen levels in the baby's blood and will alert the mother and staff if it drops below normal levels.
"Mothers and childcare are pivotal targets of the authority's 2016-2017 strategy," said Humaid Al Qatami, director general, DHA. "We plan to implement a number of programmes, with the goal of benefitting mothers and children in all DHA facilities."