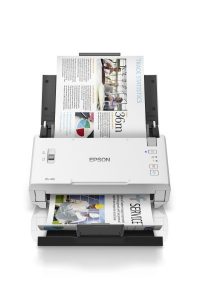 Epson has announced the DS-410 scanner, which offers outstanding productivity features at an affordable price. This makes it ideal for small or home-office users looking to buy a feature-packed business scanner, as well as IT departments that want to equip desktop scanner fleets and stay within budget.
The DS-410 provides a range of productivity features including double feed detection and paper protection technology to make sure originals are protected and every page is scanned. A set of advanced LED sensors detects when two pieces of paper have been picked at once, instantly stopping the machine and alerting the user. Meanwhile paper protection helps prevent misfeeds and damage by stopping automatically when the device detects stapled or skewed documents.
The DS-410 is bundled with Epson's new Document Capture Pro 2.0 software, which offers a simple but powerful software solution for scanning, separating and routing documents throughout a business. As well as helping automate business processes, the software provides advanced image enhancement and automatic file-naming. Document Capture Pro 2.0 will be bundled with all new Epson scanners, and is compatible with most existing scanning products.
Jason Whiley, director of sales, Epson Middle East, says, "Lots of businesses are looking for an affordable scanner they can buy in bulk and put in every office, just as many home-workers want a capable, compact scanner that will cover all the basic scanning duties. The DS-410 does that, quickly and efficiently, and offers a host of extra productivity features to boot. And when it's twinned with our versatile new Document Capture Pro 2.0 software, it makes for a truly time-saving package."