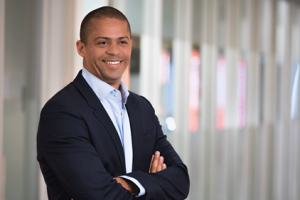 Newly-appointed F5 Networks CEO François Locoh-Donou has acknowledged the need for the company to shift its focus towards software products, and away from being a pure-play application delivery controller provider.
Locoh-Donou joined the firm in April from networking firm Ciena, and believes the company is well positioned to exploit the space for application services going forward.
"I think what needs to change is our mindset around the way we look at ourselves, which is the same way that the rest of the world looks at us – as an application delivery controller company," Locoh-Donou told Tahawul Tech at F5's Agility EMEA conference in Barcelona. "When you really look at F5 and what the core differentiation of the company is, it's software, and TMOS (traffic management operating systems). If you ask most of our customers why they buy it from F5 and not from our competitors, it's the flexibility it gives them and ability to solve any problems.
"That technology has been consumed largely as a hardware-based ADC in an on-premise data centre deployment model, and what needs to change is for us to think of ourselves more as an application services company, and delivering these services wherever and however our customers want to consume them," Locoh-Donou added. "That can be hardware in a data centre or software in a private cloud. Or a model across multiple clouds. I think making sure we have our priorities clear and then executing on them is really what we need to focus on."