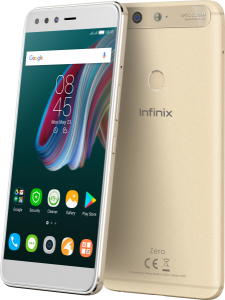 The global unveiling of the Zero 5, Hong Kong-based smartphone manufacturer Infinix' latest flagship model, took place in Dubai in partnership with local e-commerce giant Souq.com, which will stock the phone for its White Friday Sale (Nov 22-25). Infinix said that the two versions, Zero 5 and Zero 5 Plus, will be priced at AED 999 for the 64GB+6GB model and AED 1199 for the 128 GB+6GB model. The event took place at the FIVE Palm Jumeirah resort in Dubai.
Benjamin Jiang, global head, Infinix, said, "It is our pleasure to choose Dubai as the city where we will unveil the Zero 5. The Zero series has been our flagship product globally by virtue of its innovative features, which validates our R&D prowess. It has witnessed brilliant performance in key global markets such as the Middle East, Africa and South East Asia.
He said the firm's vision is to take smartphone photography to a level where it bridges the gap between amateur and professional photography.
"With its innovative design, incredible dual camera, 2x optical zoom and overall performance, the Infinix Zero 5 bridges the narrowing gap between smartphone and tablet and answers consumer demand in the dual-camera smartphone segment. Equally we're very pleased to be partnering once again with Souq.com as part of its White Friday Sale which will certainly benefit Infinix fans," he added.
Using Android's Nougat operating platform, the Zero 5 boasts an optical Zoom Dual camera and massive 16 MP front-facing camera, rear fingerprint scanner and protective screen features.
The Zero 5's rear dual camera uses both a 12 MP wide-angle lens and a 13 MP telephoto lens, with a 2x optical zoom and 5x digital zoom, and an f/2.0 aperture. There is also a special Portrait Master Mode that uses an RGBW sensor and multi-frame noise reduction technology to assist users in capturing the perfect hero shot, said the firm.
Infinix has dubbed its front camera as the 'Selfie Camera'. The selfie cam is a mega 16 MP four-in-one camera with an LED flash to boot. In a market where the selfie is king and Instagram reigns supreme, Infinix expects the 16 MP front camera to take things to a new level and become a must-have accessory for selfie lovers.
The company also launched its latest pair of over-ear active noise-cancelling headphones, The Quiet X at the event.
The Quiet X connects through CSR Bluetooth 4.2 and boasts a battery life of more than 25 hours. Available in options of black or silver colours, they use aluminum rechargeable batteries and weigh just 260 grams, said the firm.